I kept trying out no-knead recipes but they didn t work for me. I don t know why, still. And then came the day I was broke, no bread but I sure had plenty of bread flour! And yeast. I also had a bread recipe for a quick French bread, butt it required 3 1/2c of flour for 2 loaves of bread! I wanted a round loaf and quick results, with minimal kneading and pretty much what the no-knead recipes did: one pot convenience with a beautiful result! Can beggars be choosers?! I think they can! Try this recipe and let me know! It takes a total of 3 hrs, NO more!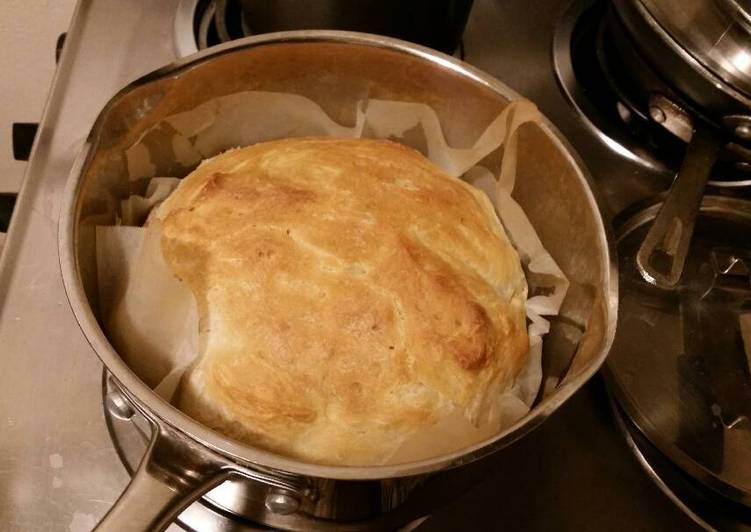 Ingredients
1/2 Tbsp instant dry yeast
1/2 tsp sugar
1/2 c 110°F (90°C ) water filtered
3 c bread flour AP is fine
1/2 tsp salt kosher isn #39 t necessary
1 c room temp water filtered
1-2 Tbs coconut or sesame oil if bread is to be stored
Method
In a small bowl mix yeast sugar and warm water until yeast and sugar dissolve Make sure water isnt above 115°F (95°C) Cover with a pot lid or dish towel for 5 mins to proof If it doesnt foam in that time start over with fresh yeast
In a large bowl mix flour and salt Stir well with a sturdy spatula Set oven to warm and a 3 qt pot of tap water to boil (this is my secret weapon to a good quick rise) Fill it to about an inch from the top and bring it to boil then turn it off
Place the pot of steaming water w/out the lid! in the oven and close it back up while its still warming Add the proofed yeast to the flour and mix it in well Then begin adding the room temp water in 1/4 c portions Add the oil as well if youre choosing to Use the spatula throughout or youll have a mess ON your hands!
Once your dough and water are thoroughly mixed you can either oil a crock pot liner or another 3 qt pot or add a bit more oil to the bowl just on the sides so the dough ball is covered and you can roll it around with your hands finally Youll find you can And whatever you do DONT use butter! Youll find itll make things stickier because of the milk solids in it Stick to an oil of your choosing
Roll the ball of dough a bit just enough to coat it with oil and to stretch the surface to form a skin on top tucking it underneath like a dumpling Place it back in the bowl and place a piece of OILED parchment oiled side down on top of the bowl and the bowl in the oven Turn OFF the oven as soon as the bowl is in If you have a light turn it on Place the pot of water in front of it
Set a timer for 1 hour After which your ball of dough SHOULD be doubled If it hasnt put it back in for another half an hour Set your timer If your pot of water has cooled boil a 1 qt of water on the stove and just switch the pots
Assuming your ball DID double use the spatula to punch down the dough Pour out the water from the 3 qt saucepan and oil it lightly Place the oiled parchment you used this time oiled side UP Dont worry if it doesnt cover the sides all the way
Add some oil to the sides and roll the ball of dough as before Taking a CLEAN pr of kitchen shears dip them in oil first shaking off the excess and use them to make cross cuts on top Place it into the LINED 3 qt saucepan and boil water in a smaller saucepan
Place the dough pan in the back of the oven the water in front so its easy to get out Turn oven off (leave the light on if you have one) set timer for 30 mins
WITHOUT taking the dough out of the oven raise the oven temp to 450°F (280°C) and bake for 20 minutes When the timer goes off: First remove the pot of water then take out the dough and brush or spray with water for a crunchy crust Rub with oil or butter for a soft one You can sprinkle salt or seeds at this point Put the loaf back in and
Bake for another 15 minutes and check the temp with an instant read thermometer From the side into the center it should read at least 200°F (95°C but Im NOT sure if these Celsius temps are correct so check them PLEASE!) If it isnt give it another 10 minutes then check again until it reaches the right temp
I have learned that baking my loaves for the first half with the pot lid off then the 2nd half without any pot at ALL gives me perfect temp EVERY time but not perfect color My oven is pretty tiny though and I cant put it on a tray that 2nd half If anyone tries it please comment!
These arent instructions just options: you can modify this recipe to your hearts delight! Cut up apricots dried cranberries olives 1 1/2 Tbs of dried rosemary 2 Tbs of good virgin olive oil 1/4 cup CUBED pecorino Romano or a REALLY good Parmesan! Added with some roasted garlic maybe 1 – 1 1/2 Tbs of it Just no more than 1/4 cup of dried addition right And bon apetit!!