Had this appetizer at the Italian Palace in Lakeland, FL and loved it so much I made it at home!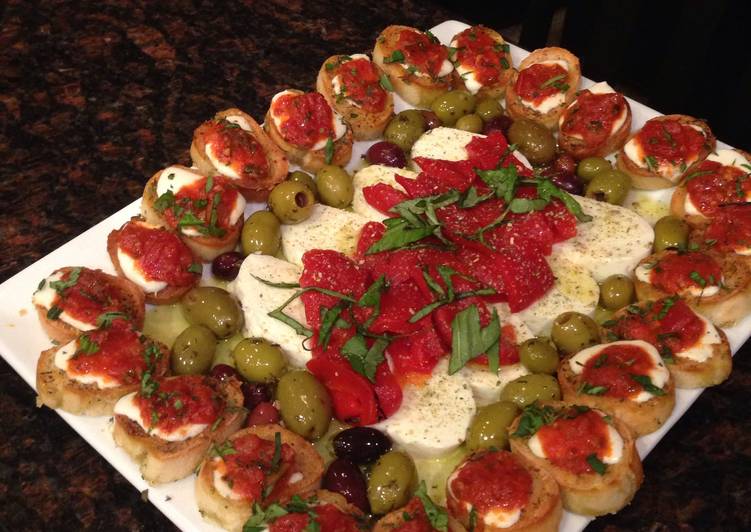 Ingredients
1 Baguette pre-cut 1/2 quot slices
1 jar of store bought bruschetta mix
1 packages Mozzarella Cheese
1 Parmesan Bread Dipping Seasoning (Publix)
1 as needed Olive Oil
1 as needed Fresh Basil
1 can Whole black olives
1 can Whole Green Olives
1 each Jar of Roasted Bell Peppers
Method
Arrange pre-cut slices of baguette on a large cookie sheet and drizzle olive oil on each piece Season lightly with Parmesan Bread Dipping Seasoning Broil in oven until lightly toasted
Put olives and Roasted Bell peppers in a bowl and drizzle with olive oil Refrigerate until ready to plate
Remove baguette slices from oven Cut mozzarella into thin small slices and put on each slice of the baguette Reserve some large slices for plating
Put baguette slices back into oven and broil until cheese melts and remove
Last add Bruschetta mix to each slice Plate with the remaining mozzarella slices and add marinated olives and roasted bell pepper and garnish chopped basil!!