I found a recipient online and changed it up to make it the way I like it and it turned out amazing! Hope you enjoy.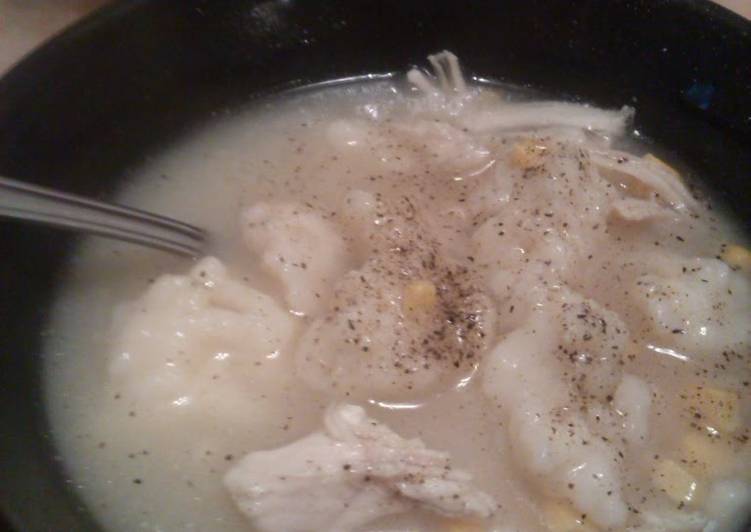 Ingredients
4 chicken breasts
1 1/2 cup all-purpose flour
1 tsp baking powder
1 tsp salt
1 tbsp vegetable oil
1 eggs
3/4 cup water
1 tsp salt
1 can corn or any vegetable of your choice corn is all i had at the time
6 chicken cubes
Method
Start cooking the chicken first It takes the longest
In a medium bowl mix together the flour baking powder and salt Crack the egg into a measuring cup and add enough water to equal 1 cup Whisk with a fork Gradually stir the egg-water and oil into the flour mixture with the fork until a soft dough is formed Use your hands to mix the dough until is smooth and no longer sticky adding more flour or water as needed Cover the bowl and set aside
Add the chicken cubes to the pot of water let it boil Before adding dumplings
pinch off small pieces of the dough and drop them into the boiling water I like to use a cookie scooper because mine has a clip that will slide it off and my fingers dont get messy! Once all of the dumplings have been added you can stir in the vegetables of your choice Bring down to a simmer and let your dumplings cook for about 10 mins
When your chicken is cooked Shave the meat and add to soup
And you have very yummy dumpling soup 🙂 My family loves this recipe ! I love that you can really add anything to it Potatoes bacon carrots! Anything! Its so easy and very inexpensive!