S.O.S. stands for er… sh!t on a shingle. Yep, excuse the language, but knowing the name and its history are important. 😉
Originally a US military meal having its start during war time because it was inexpensive to make, especially in large quantities, it is traditionally a chipped beef white gravy served over toast. However ground beef and tuna have been used in alternate versions. It s a good, cheap dinner (or breakfast) idea that brings on a flood of nostalgia for many people.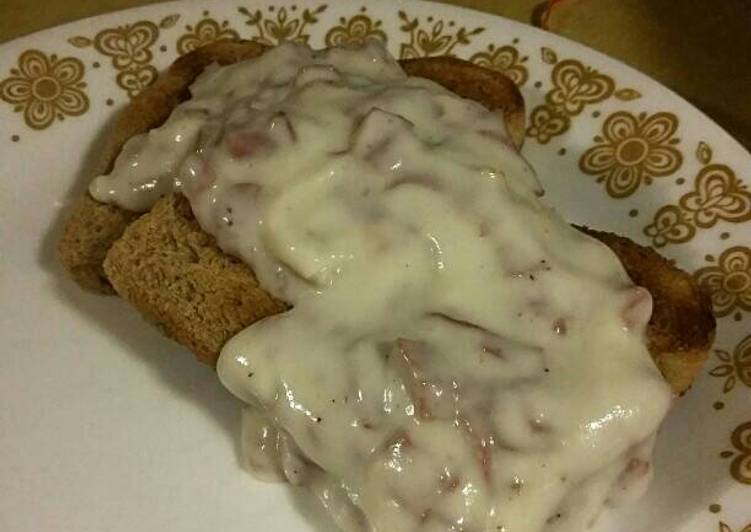 2 packages sliced beef lunch meat (such as Budding brand)
2 cups milk
4 tbs butter
4 tbs all purpose flour
1/2-1 tsp salt
1/4 tsp black pepper
Chop beef to 1/4 inch squares this is the chipped part Heat butter in a sauce pan over medium heat Add chipped beef Cook 2 minutes stirring constantly to crisp slightly
Stir flour into beef and butter until beef is coated Cook 2 minutes more stirring constantly
Break out your wisk Slowly pour milk into sauce pan wisking constantly Continue wisking to eliminate any clumps of flour
Bring to a boil still wisking constantly Reduce heat to medium low and simmer until nice and thick stirring frequently About 5-10 minutes more
Stir in pepper and 1/2 tsp salt Taste and add additional salt if desired (I usually end up with about 3/4 tsp in mine)
Serve over toast Enjoy! Goes great with fried eggs!