My Irish side loves Irish Soda Bread. I always look forward to having this on St. Patrick s Day. Back in high school, I tried to make it, but it was a total failure. Over 15 years later, I tried to make it again, using a recipe that my mother in law got from a good friend of hers. It was really good and so simple I have tried to make it myself every year since I got this recipe. Hopefully, you will like it as much as we did. This recipe makes 1 large loaf or 2 small loaves. For mine, I used two 9 inch cake pans. Enjoy!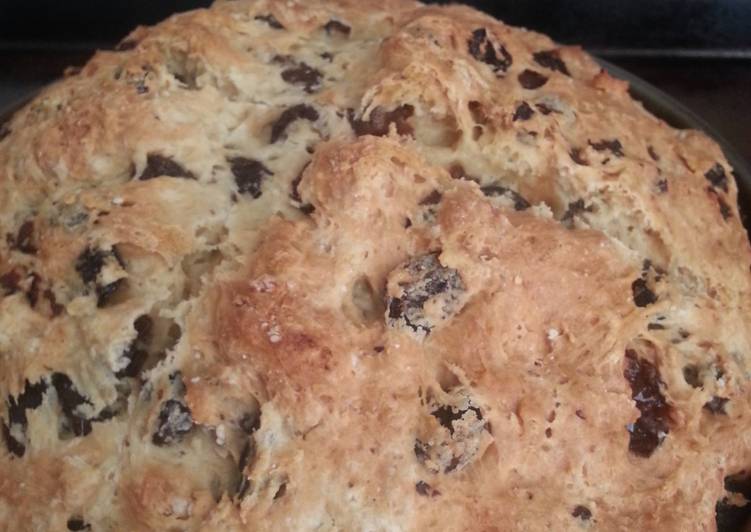 Ingredients
4 cups flour
1/4 cup sugar
1 tsp salt
1 tsp baking powder
1/4 cup butter or margarine
1 1/2 cups raisins cooked * (see below)
4 tbsp raisin juice * (see below)
1 egg
1 1/3 cup buttermilk ** (see below)
1 tsp baking soda
Method
Heat Oven to 375
In a large bowl add flour baking powder salt and sugar
Cut in the butter
Add raisins and the raisin juice
In a separate bowl combine the egg and buttermilk Add baking soda to liquid Quickly stir into dry ingredients
Change Dough will be very sticky Put into a well greased loaf pan and cut a cross into the top about 1/2 inch deep
Bake for 50 – 60 minutes for large loaf or 40 – 45 minutes for 2 small loaves
Cover raisins in saucepan with water and bring to a boil quickly then simmer for 5 minutes Save 4 tablespoons of the raisin juice Drain the raisins *
If using milk instead of buttermilk put 2 tablespoons of vinegar in milk and let stand undisturbed for 5 min Then add egg amp baking soda Stir lightly amp quickly add to the batter **
Enjoy!