So easy, so delicious, so creamy, so crispy, so toothy! Know that 7 year olds made this entire dish in less than 10 minutes! Including the Berry Basil Balsamic Bruschetta side dish. This serves 4 if serving as an appetizer.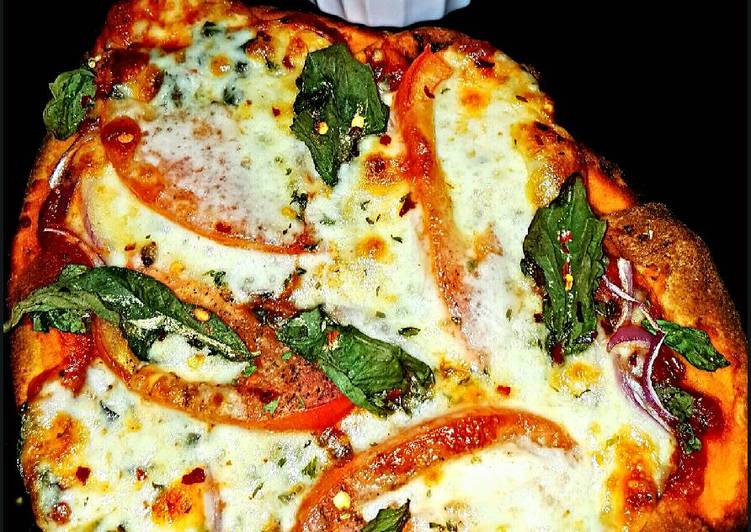 2 (5 oz) Thick Fresh Naan Breads you #39 ll want naan for its sturdiness amp ability to oven crisp
1 Ball Fresh Quality Whole Mozzarella Cheese sliced
as needed Shredded Quality Mozzarella Cheese
as needed Shredded Quality Parmesan Cheese
1 Jar Of Your Favorite Quality Marinara Sauce choose a thick one with basil and garlic specifically featured
1 Cup Thin Sliced Fresh Basil extra whole leaves for top garnish
to taste Thin Sliced Red Onions
2 Firm Roma Tomatoes or 1 firm beefeater tomato both de-seeded amp de-pulped
to taste Red Pepper Flakes
to taste Dried Oregano
dash Granulated Onion amp Garlic Powder
to taste Cracked Black Pepper
to taste Cracked Sea Salt
Basil Or Garlic Olive Oil optional
Preheat oven and pizza stone to 450°F Allow your oven to heat even longer as so the pizza stone can fully heat and effectively crisp your Naan bread
Change Heres all youll need! Shredded Parmesan not pictured here
Change Add your seasoned sauce and lightly sprinkle dried oregano atop Its important you choose a thick Marinara or Spaghetti Sauce with garlic and basil specifically featured within it for fullest flavor
Change Liberally sprinkle on fresh chopped basil
Change Lightly sprinkle on shredded Mozzarella and Parmesan Cheeses
Change Add red onions and seed/pulp free tomato slices to pie Otherwise youll have soggy pies
Change Add fresh mozzarella cheese slices fresh whole basil leaves cracked black pepper red pepper flakes and sea salt to taste to your pies Lightly drizzle tops with basil or garlic olive oil if youd like Its a great addition Also add a few dashes of granulated garlic and onion powder
Change Place pies in a 450° preheated oven for 10 minutes Or until both Naan bread crusts and base underneath are browned and crispy Also when mozzarella slices have fully melted
Change Serve immediately with my super easy 5 minute chilled Berry Basil Balsamic Bruschetta to the side for a great flavor contrast Enjoy!