This dish will remain authentic if you choose to add 5 lbs shreadded chicken instead of pork. These burritos are eaten by wrapping contents in a tortilla for lunch on the run. Or, more commonly, by tearing off pieces of warm tortillas and scoping up the pork/veggies into it. This dish freezes well for up to a month and a half.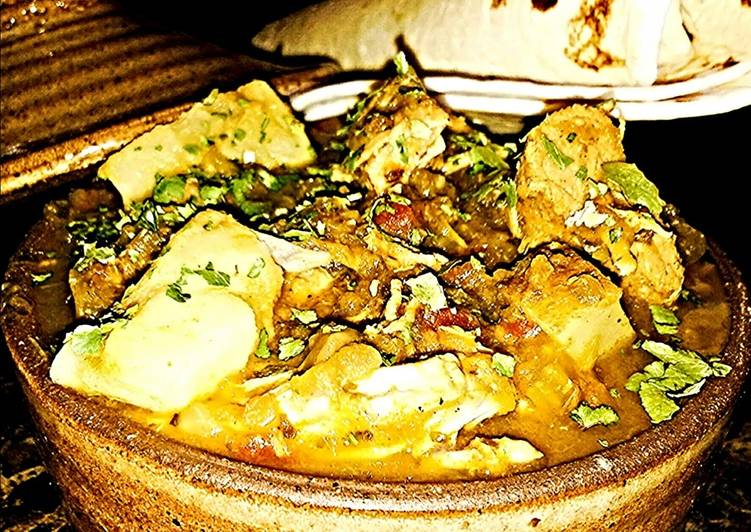 Ingredients
Meats
5 lb Boneless Pork Shoulder trim 98% of fat
Flour Coating
2 cup AP Flour
1 tbsp Each: Garlic Powder-Onion Powder-Season Salt-Salt-Dried Cilantro-Black Pepper-Cumin amp Italian Seasoning
1 tbsp Green Chilie Powder if you can find it – usually only found online
Green Chile Burrito Simmer
2 12 oz Buckets Hatch Green Chili hot or mild-reserve 1/2
2 box use up to 2 boxes Chicken Stock reserve 1/2
2 can use up to 2 cans Light Or Mexican Beer reserve 1/2
1 can Rotell Tomatoes With Green Chiles
3 large White Onions large chop
4 Celery Stalks with leaves
6 large Jalapeños optional-rough chop
2 large Garlic Bulbs fine chop
2 large Bunches Fresh Cilantro reserve 1/2
2 can 12 oz Green Tomatillos
2 Anaheim Chilis optional
1/2 tsp Mexican Oregano
2 large Bay Leaves
1 tbsp Each: Granulated Garlic amp Onion Powder-Salt-Red Pepper Flakes
1 1/2 tbsp Cumin
Primary Starches
4 medium White Potatoes peeled or unpeeled
Breads
1 large Package 12 quot Flour Tortillas regular or fluffy
Acid Reducer
1/2 tsp Baking Soda
Method
Change Heres how bulk of what youll need
Change 5 pound pork loin roast
Change Fresh flour tortillas
Change ° Cut 5 lbs pork shoulder into 1 cubes and toss well in your seasoned flour ° Brown pork well in an oversized skillet with a minimal amount of oil About 1/3 cup or as little as possible ° Dont be afraid of any additional flour not attached to your pork cubes ending up in your skillet It will serve you well as a thickener ° Reserve your leftover seasoned flour just in case you need it later for additional thickening
Change After pork is sufficiently browned add 1 beer 1/2 to 3/4 box chicken broth 1 bucket Hatch Green Chilies 1/4 of all your vegetables except potatoes herbs and spices to your simmer Simmer for 45 minutes – adding additional broth as needed This is a layered dish
Add your remaining vegetables except potatoes or anything thats listed as reserves and simmer for up to 2 hours adding broth and beer as needed Simmer until your pork is easy to chew when you taste test it
Authors Note: If your dish tastes a bit acidic due to the chilies tomatillos and Rotel tomatoes – add a 1/2 teaspoon of Baking Soda while your dish is on a steady simmer Itll foam up for a second but dont worry – shell settle right down Add additional 1/2 teaspoon Baking Soda if still needed
Change ° Once your pork is falling apart youll know youre ready for these last few steps ° After approximately 2 hours of simmering add 4 diced potatoes and additional broth/beer if needed Only add just enough additional fluids youll need to boil potatoes ° Simmer your mixture for 20 to 30 minutes – 1/2 covered to steam your potatoes and then 1/2 uncovered to thicken until your spuds are fully softened ° To thicken your dish even further lightly sprinkle your leftover flour over the top and sti
In the last 5 minutes of cooking your potatoes add your remaining reserved halves 1 bucket Hatch Chilies and fresh cilantro
Change ° If you thin this recipe out with some additional stock and/or beer it could easily be served as a thinner stew ° Fluffy flour tortillas work best with a thinner broth – regular tortillas for thick ° Garnish with fresh or dried cilantro or parsley and Mexican 3 Cheese to tame the heat for your guests I assure you no other condiments are needed!