Talk about returning to BBQ 101 and smoky training wheels. My newest seven year old renegade student decided she wanted to learn how to smoke her first brisket and short ribs today. Seeing as how I m only accustomed BBQ ing whole hogs, 15 pound briskets and massive slabs of ribs – you can imagine my confusion at smoking a miniscule 2 pound baby brisket and four puny, albeit chubby, choice beef ribs. Anyway, Sunday, [yup. that s her real name – then again – i m a girl named Mike – so who s judging?] did a fantastic job! Both meats were smoky, juicy, BEYOND savory, had great smoke rings, chars and burnt ends! Excellent work sweet baby girl! Your meats were delectable! I promise, any grown Southern man would have drooled and swooned over your creations! And, those boys do know their BBQ! P.S., when choosing a brisket – ask your butcher for his or her favorite pick. Otherwise you might very well end up with a really tough piece of expensive meat. Anyway, have fun and enjoy yourselves like SUNDAY SUNDAY SUNDAY did!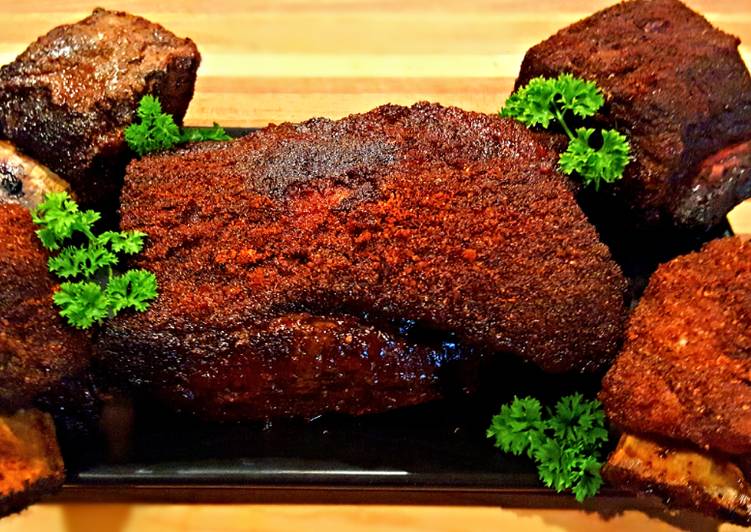 ● For The Meats
2 Pounds Quality Beef Flat Brisket
2 Pounds Choice Beef Short Ribs
● For The Woods
as needed Mesquite Wood
as needed Hickory Wood
● For The Dry Rub
2 tbsp Brown Sugar
2 tbsp Paprika
1 tbsp Salt
1 tbsp Cumin
1 tbsp Cayenne Pepper or less if you #39 re not fond of spice
1 tbsp Chilli Powder or less if you #39 re not fond of spice
1 tbsp Granulated Garlic
1 tbsp Granulated Onion
1 tbsp Black Pepper
1 tbsp Dry Mustard optional
Change Beef Flat Brisket room temp
Change Choice Beef Short Ribs room temp
Change Mix your dry rub and rinse your meats
Change Liberally dust and press your meats with your dry rub
Change Dust tops bottoms and all sides Press dry rub into beef
Change Place both Hickory and Mesquite wood chunks into your smoker Fill your water bowl within and bring smoker to 225° Place brisket fat side up and ribs bone side down
Change Cover for 35 to 4 hours but pull the beef short ribs at about 15 hours in Theres no need to flip meat In fact try not to peek! It will allow all your smoke to escape It really is a precious commodity! Keep an eye on your steady 225° temp tho!
Change Youll know your ribs are ready when the meat has pulled away from the bone
Change Ultimately youll want your internal brisket temperature at 190° to be safe I usually leave mine at a rare 180° But any temp you choose a meat thermometer is definitely in order 😆
Change You can choose to sauce up these dry rub ribs if youd like Heinz is putting out some descent new brands as of late Sweet Baby Rays is also another delicious sweet option
Change Pull brisket and wrap immediately in tin foil Allow brisket to rest for at least a half hour before slicing Dont worry shell still be hot!
Change Side Dish – Stacked Baked Beans
Change Side Dish – Potato Egg Salad
Change Side Dish – Half chewed buttery salty corn on the cob! Delicious!
Change Slice your rested juicy brisket and plate
Change Serve with buttery salty corn on the cob baked beans and chilled potato egg salad I have a tasty recipe under my profile for both the salad and beans You can also make excelent Brisket and Burnt End Sandwiches with thick dill pickle slices Youll definitely want those sour pickles to cut the rich fat youll find in your brisket Enjoy!