Lay these 2+ lb crispy pork Chimichangas upon beds of shreadded cabbage and top with guacamole, lettuce, tomatoes, cheeses, black olives, onions, fresh Cilantro, sour cream, chives, cheeses and your very own homemade, authentic Mexican Green Chili Sauce!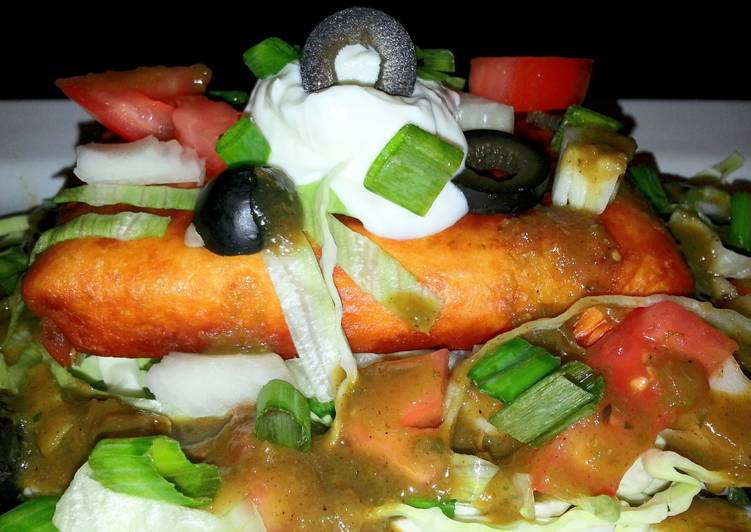 Pork amp Green Chili Sauce
4 lb Pork Shoulder fat trimmed
1 cup Fresh Cilantro
5 tbsp Fresh Garlic chopped
1 can (12 oz) Tomatillos drained
4 Extra Large Jalape̱os chopped Рseeded removed
2 can (4 oz) Green Chili #39 s
2 large White Onion large chop
1 cup Beef – Chicken Broth Or Water
1 cup Mexican Beer
1 1/2 tbsp Ground Cumin
1 tbsp Chili Pepper
1/2 tsp Mexican Oregeno
1 tsp Black Pepper
1 1/2 tsp Sea Salt
1 tbsp Granulated Sugar
1/4 tsp X 2 Baking Soda if needed to tame tomatillo acidity
3 tbsp Or Less – Corn Starch
Tortilla Bean amp Cheese Filling
2 can (8 oz) Refried Beans
2 can (4 oz) Green Chili #39 s chopped
1/2 tsp Ground Cumin
2 tsp Onion Powder
1 large Bag Mexican 3 Cheese
1 Fresh Chopped Onion And Tomato to mix in beans-optional
1 liter High Heat Cooking Oil
6 large Extra Large Flour Tortillas
Garnishments
1 tub Mexican Sour Cream Or Regular
1 packages Queso Fresco
1 cup Chopped Chives
1 large Tomato chopped
1 large White Onion chopped
1 small Head Lettuce shreadded
1 small Head Cabbage shreadded
1 can Black Olives sliced
18 Wooden Toothpicks
If looking to decrease the manual labor time on this recipe try my 1 Minute Green Chili Enchilada Sauce Itll work well in a pinch Mike#39s 1 Minute Green Chile Enchilada Sauce
You can slightly brown or sear your roast in a cast iron skillet with oil prior to placing it in your crock pot but its not necessary
Change Place pork in a slow cooker and add everything in the pork and green chili sauce section excluding the corn starch and baking soda Let slow cook for 7 hours
Change Chop all vegetables for garnishments and place in fridge to chill
Change When pork is soft enough to be pulled apart by fingers or forks take out and shread Set aside and keep warm at room temperature
Pour all pork fluid and cooked vegetables in a blender and blend in high until fully liquefied Rinse blender and put away
Change Pull out your bag of Mexican 3 Cheese Blend and allow it to come to room temperature for later use
Pour green chili blended mixture into a sauce pan and heat on stove top
Change At boiling point taste for acidity levels If there is a bitterness from the Tomatillos add 1/4 tsp baking soda and stir Your mixture will foam momentarily but dont worry Taste again If still too acidic add one more 1/4 tsp baking soda Also taste test for a flavors you desire but have faded Much of the spices can wear down with such a long cook time so ask yourself if youd like more garlic onion powder pepper salt Cilantro or Cumin Make this recipe your own :0)
Change To thicken this green chili sauce bring to a boil Measure 2 tbs Corn Starch with 1 tbs water and mix very well in a tiny bowl and slowly add it to your boiling sauce As it boils it will thicken Add another tablespoon with water and mix in your tiny bowl again if still too thin Since this sauce will go over your Chimichangas youll want it thick enough so it doesnt destroy or sog the crisp of your tortilla
Mix about 10 tbs of this sauce into your shreadded pork and mix well You dont want your pork too wet tho Itll break through your tortilla before you can fry it
Change Make your bean mixture with your salsa cumin onion powder and chilis and microwave for 2 minutes Stir well and set to the side
To make your Chimichangas heat 6 tortillas for 10 seconds in the microwave Place pork in the center of the tortilla the pile the beans on top then stack the cheese In that order Smash all 3 down slightly to compress or firm ingredients
Change Fold over both sides of the tortilla and pin with a toothpick
Change Take end and fold tips right to left and inwards like a gift and pin with a toothpick
Change Do the same for the other open end
Make 6 of these Chimichangas the same way and size
Change Fill frying pan half way up with oil and turn on
Once hot add a Chimichanga to the heated oil and fry 1 1/2 minutes on each side These require such a short fry time since all ingredients are precooked or are at room temperature If you cant fry your Chimichanga for a minute and a half on each side without burning your heat is too high Youll only want to flip these over once if at all possible Do not burn and drain on several paper towels once crispy and golden brown
Change Fry one by one and be careful when flipping these Chimichangas while in the hot oil They are heavy and oil will splash out if not very careful! Repeat for all 6 Chimichangas
Change To plate: REMOVE ALL 18 TOOTHPICKS! Place shreadded cabbage at the base of the plate for the fried Chimichanga to sit upon Otherwise the sauce that settles on the plate bottom will make your Chimichanga too soggy too soon
Change Using the cabbage bed is an old trick used by restaurants to cool the Chimichangas and ensure your leftovers are just as crispy as they were at platter service
Top with all garnishments additional shreadded cheese and green sauce and serve immediately
This recipe should create 6 Chimichangas weighing about 2 pounds a piece
Change You can also create mini Chimichangas with 6 Tortillas Just follow the same recipe
There really isnt a need to serve a side dish with these since you already have your bread tortillas meat beans protiens and vegetables But if youre looking for another starch try Mexican – Spanish Rice Or try a dessert such as Tres Leches Cake Mexican 3 Milk Cake
Enjoy!