Five minutes fast and literally foolproof! Always an impressive and appreciated appetizer! So easy, my 7 year old culinary students not only made these chilly appetizers but, detailed their own recipes and took their own photos in the same amount of time. 😆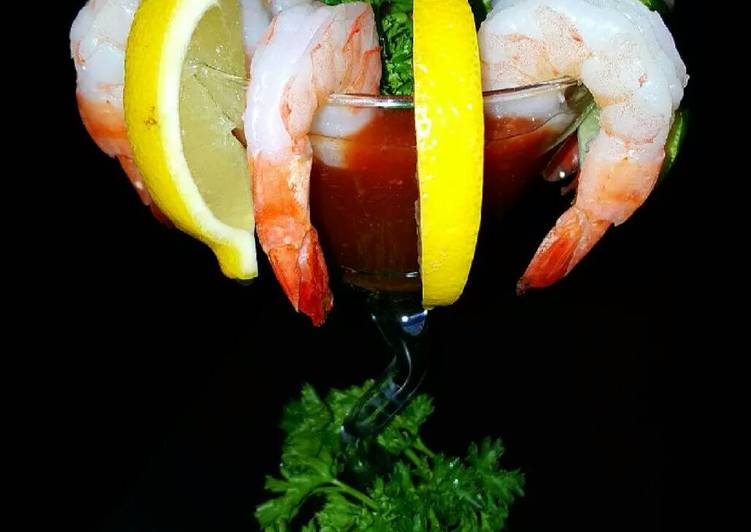 Ingredients
24 Jumbo Pre-steamed – Dethawed – Deveined – Deshelled Shrimp tails left on
12 Jumbo Steamed Scallops optional
1 LG Bottle Cocktail Sauce chilled – your choice
4 Cocktail Glasses chilled
1 Lemon sliced
1 Lime sliced
Fresh Italian Parsley garnish
side options
Crusty Topped Bakery Bread sliced
Sharp Cheeses chilled and melted – like cheddar and brie
Salted Clarified Butter with garlic and lemon
Method
Change Dethaw your shrimp if need be Add chilled cocktail sauce to your chilled glasses Slice your lemon and lime Also make a slit in the middle of each wedge as so they can hang sturdily on to the glass Hang 6 jumbo shrimp over the rim of each glass Place wedges in between shrimp Garnish cocktail with fresh parsley
Change Thats it! Enjoy!
Change Not pictured above but you can also purchase pre-steamed jumbo scallops and pin them to the tops your jumbo shrimp with colorful cocktail spears Or spear 3 of them together and gently lay them on top of each cocktail
Change Easy inexpensive and tummy filling! Ill also serve these jumbo seafood appetizers with a thick sliced store bought artesianal bread and clarified garlic lemon butter Sharp salty chilled or baked cheeses are another great serving option Each will cut and compliment the richness of your cocktails perfectly!