Once again, my newest students steamed WAY too much seafood. With that, they were charged, yet again, with creating a delicious dish out of their leftovers. Well, that they did! Once this dish was fully chilled, this spread was gone in seconds! Excelent work students! This was such a rich, easy, creamy bowl of pure seafood deliciousness! Nom nom nom! I mean that!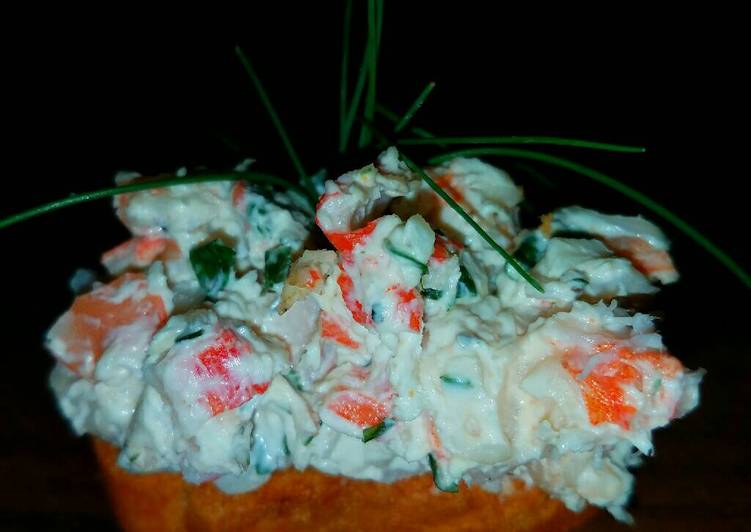 Ingredients
● For The Seafood all seafood fine chopped
1 Cup King Crab Leg Meat
1 Cup Lobster Tail Meat
1 Cup Flaked Salmon
1 Cup Shrimp
1/4 Lemon Juiced
● For The Creams all room temp
2 (8 oz) Packages Philadelphia Cream Cheese
1 tsp Fresh Dill Weed
2 tbsp Fresh Sour Cream
● For The Vegetables all vegetables fine chopped or minced
1/3 Cup Celery
1/2 tsp Fresh Dill
1/4 Cup Fresh Chives
1/4 Cup Fresh Parsley
1/2 tsp Fine Minced Garlic
● For The Seasonings
1/2 tsp Old Bay Seasoning
1/4 tsp Lemon Pepper
1/4 tsp Celery Seeds
● For The Breads
Assorted Fresh Toasted Bagles
Assorted Quality Crackers
Fresh Quality Crostinis
Sliced Lemon Wedges
Method
Change Fine chop your seafood
Change Fine chop your vegetables and add to seafood Mix well
Change Mix everything else together well and chill for a few hours
Change Smear on bagles crostinis or quality crackers
Change Fresh crostinis pictured
Change Garnish with fresh chives and lemon wedges Enjoy!