Another devilishly delicious spicy creation invented by six of my brilliant eight year old students! Excellent recipe and photos kiddos!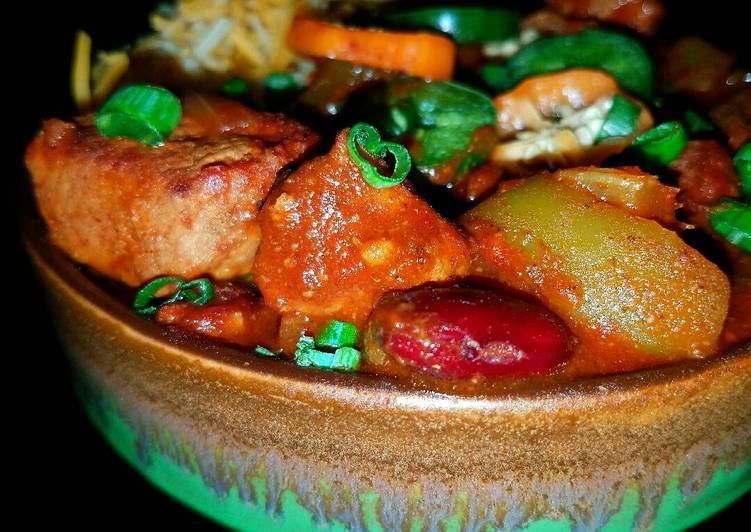 ● For The Meat amp Meat Seasonings
2 Pounds Pork Loin
Dashs Of Cumin
Dashs Of Chili Powder
Dashs Of Garlic Powder
Dashs Of Onion Powder
to taste Fresh Ground Black Pepper And Salt
as needed Frying Oil
● For The Beans
1 (16 oz) Can Kidney Beans drained
1 (16 oz) Can Your Favorite Chili with beef – used as a thickner
1 Cup Shredded Cheese your choice
● For The Fluids
2 (32 oz) Boxes Beef Broth
1/2 Can Lager Beer
● For The Vegetables fresh amp canned
1 LG Chopped Beefeater Tomato
1 Chopped Medium Green Bell Pepper
1 LG Chopped White Onion
4 LG Sliced Jalapeño Peppers
4 LG Sliced Habenero Peppers
5 Cloves Sliced Fresh Garlic
1 LG Choppef Stalk Celery
1 (4 oz) Can Green Chilies
1 (28 oz) Can CENTRO Chefs Cut Tomatoes see photo
● For The Seasonings
1 tbsp Better Than Bouillon
1 Dash Worshestershire
3 tbsp Dehydrated Onions
1 1/2 tbsp Ground Cumin
1/2 tsp Red Pepper Flakes
2 tbsp Chili Powder
7 Dashes Tabasco Sauce
1 tbsp Garlic Powder
1 tbsp Onion Powder
● For The Toppings amp Side Options as needed
Sour Cream
Shreadded Cheeses
Chopped Fresh Chives
Sliced Avocados
Sliced Jalapeños
Sliced Habeneros
Chopped White Onions
Tabasco Sauce
Fresh Tortilla Chips
Fresh Flour Tortillas
Change Rinse loin in cold water Cut into 1/2 thick slices Then into 1 cubes
Change Place oil in pan and add pork Season to taste Fry until browned About 7 minutes
Change Crushed tomatoes used pictured
Change Add both boxes of broth to a large thick bottom pot Add cooked pork and simmer for one hour covered Or until pork is somewhat tender
Change Pork and reduced broth pictured
Change Chop all vegetables Add vegetables and seasonings to pot and simmer for 15 minutes covered
Change Add everything else to the pot and simmer 15 minutes longer uncovered
Change Serve with any of the items listed in the Toppings and Side Options section listed above Or pick your own Enjoy!