Between the broth, onions, crushed black pepper, Worchestershire Sauce and mushrooms, you d swear you were actually eating a steak based soup.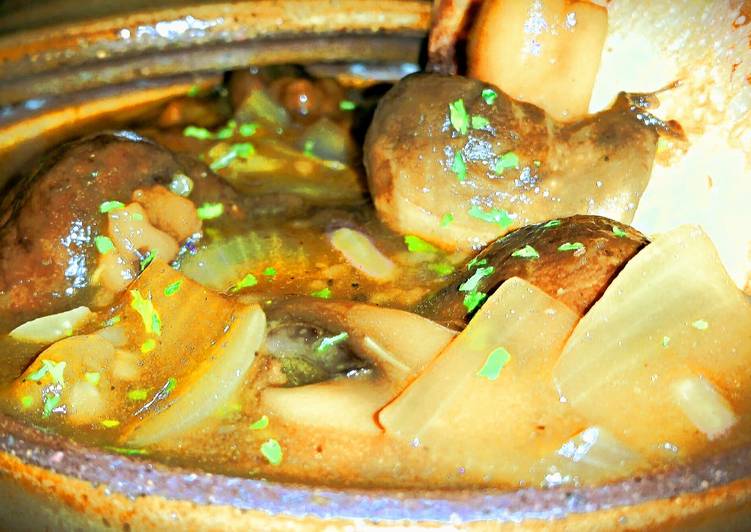 Ingredients
Onion Mushroom Soup
8 cup Varied Mushrooms halved-baby portabella-white-brown-wild
1 Extra Large White Onion chopped
1 cup Quality Dry White Wine reserve half
1 tbsp Fresh Minced Garlic 2 reserve cloves
1/2 cup Green Onions chopped
1 box Lipton Onion Soup use both packets in box
1 tsp Fresh Ground Black Pepper
2 tbsp Dehydrated Onions
1 dash Worcestershire Sauce
1 box (32 oz) Beef Broth
2 tbsp Olive Oil
2 tbsp Butter
1 tsp Thyme
1/2 cup Fresh Parsley added last
1 large Bay Leaf
Breads
1 loaf Dense Bread your choice-toasted
Fresh Croutons
Soup Thickeners flour or starch
4 tbsp Flour
2 tbsp Corn Starch 1 tablespoon water
Method
Change Add butter olive oil onions garlic thyme both packages of Lipton Onion Soup Mix and 1/2 of your cup of white wine to a heated pot Cook about 3 minutes or until onions are just slightly translucent Be careful to not burn your garlic Cover and let sweat for 5 minutes
Add flour and other 1/2 cup wine and whisk into onion mixture Youre thickening your soup with this mixture Know you might need a bit more oil
Change Wash your mushrooms with a damp cloth Half or quarter your mushrooms depending upon how large they are Youll want your halves or quarters fairly large and plump Add your mushrooms to the pot and stir Steam covered for 3 minutes in onions mixture Stir regularly
Change Add everything else except breads corn starch or reserved garlic cloves to the pot and simmer for 30 minutes
Change Toast your 1 thick slices of crustini bread Youll definitely want very dense or heavy bread with this soup

While your bread is still warm smear your fresh garlic cloves on your crusty bread and watch them melt! Thats it Nothing else Just thick slices of garlic bread meant to be dipped in your soup

If you feel youd like to thicken your soup more Try corn starch Mix 2 tablespoons starch to 1 tablespoon water Mix well Add 1/2 of it to your simmering pot and stir well Let simmer for 1 minute Add the other half if need be
Change Throw in your fresh parsley about 45 seconds before service Pull Bay Leaf
Change Serve soup piping hot with tons of warm garlic crustini bread or fresh croutons You dont want to run out of bread so make extra if need be Enjoy!