Like most kids – my students wanted Spaghetti & Meatballs today. This is what four 7 year olds created this morning. Trust me. It was delicious! All photos, directions and presentation were posted by my crazy adventurous students! Great work kiddos! Man, for a pre-fabed dish, it was crazy tasty!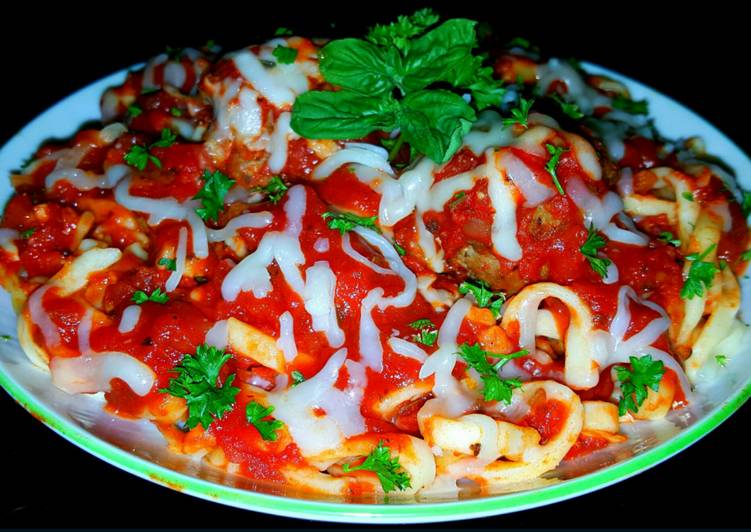 ● For The Red Sauce
2 (1 Pound) Jars of your favorite spaghetti or marinara sauce
1/2 Cup Viadailla Onions
1 EX LG Firm Beefeater Tomato chopped
1 (14 oz) Can Artichoke Hearts
1/2 Cup Red Onions
2 Cups Fresh Spinach stems removed
1 Cup Fresh Mushrooms thick sliced
1 (14 oz) Can Diced Tomatoes
1/4 Cup Parmasean Cheese
6 LG Cloves Fresh Garlic smashed amp fine minced
2 LG Stalks Celery chopped
1/4 Cup Fresh Basil Leaves
1/3 Cup Sugar
1 tsp Fennel
● For The Meatballs
1 Pound Ground Sausage
1 Pound Ground Beef
2 tbsp Fresh Basil reserves for garnish
1 tsp Fresh Ground Black Pepper
2 Cups Italian Bread Crumbs
2 Eggs
● For The Sides amp Garnishments
Garden Wedge Salads with bacon slivers
Slices Thick Garlic Bread
Fresh Italian Parsley garnish
as needed Parmasean Cheese
as needed Mozzarella Cheese
as needed Noodles your choice
Change Create your meatballs by mixing everything together in the ● Meatball section well Mold into small balls
Change Bake at 350° for 20 to 25 minutes
Change Chop all fresh vegetables and place in a large pot
Change Add in your favorite spaghetti or marinara sauce
Change Simmer for 30 minutes Stir regularly
Change Add in meatballs Simmer 10 minutes longer
Change Boil your noodles as per manufactures directions Add a dash of salt and olive oil to your water Stir occasionally
Change Top with fresh basil parsley Parmasean and Mozzarella Cheese
Change Serve hot with crispy garlic bread and a fresh wedge garden salad Enjoy!