Since the tummy flu is going around here in Albuquerque like mad – I charged my 7 year old students to make a soup without meat. Sadly, all 4 sick students refused to touch it initially. Anyway, this was their thirty minute soup kitchen adventure! This really was tasty students! And, your fellow students seriously adored it! Piping hot to ease their tummies, salty to prompt them to drink and breads to soak up all of those acids in their stomachs! Excelent work!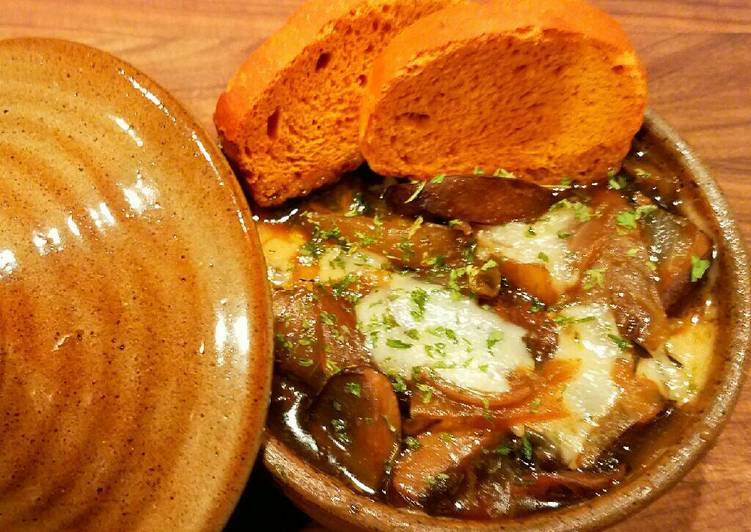 Ingredients
● For The Vegetables all rough chopped
1 (24 oz) Box Premium Baby Bellas stems removed
1 EX LG Vidalia Onion you #39 ll need its sweetness
1/2 LG Red Onion
1/3 Cup Green Onions
1/4 Cup Fresh Parsley Leaves optional
3 Whole Garlic Cloves
● For The Broth pre-mix before adding to veggies
2 (32 oz) Boxes Swansons Broth
2 (1 oz) Packages Lipton Onion Soup Mix
1 tbsp Powdered Au Jus Mix optional
1/4 tsp Fresh Thyme
1 tsp Fresh Ground Black Pepper
1/4 tsp Crushed Bay Leaves
2 tbsp Salted Butter
● For The Options as needed
Slices Gruyère or swiss Cheese
Fresh Seasoned Crustiinis
Fresh French Bread
Method
Change Rough chop all vegetables
Change Heat 2 cups broth and add all seasonings Including butter Whisk well
Change Add everything together and simmer for 30 minutes covered on medium Stir occasionally
Change Crustiinis and Gruyère Cheese pictured
Change Fresh crispy French bread pictured
Change Serve hot with melted Gruyère Cheese or swiss crustiinis and fresh French bread Enjoy and feel better!