Slightly spicy, slightly tangy, big on fresh garden flavors and only 5 minutes fast! Today is Wednesday here in the O Brien Shire so y all know what that means! It s, Clean out the crispers and pick the ripe from the garden day! My students always have a blast with this since they can create anything their tiny imaginations can dream up. Well, today my 7 year olds decided on a healthy pesto for their parents pasta and shrimp dinner tonight. Excellent work kiddos! Your pesto was positively delicious! Great photos and directions as well! This will coat enough pasta for 4 to 6. Double recipe if needed.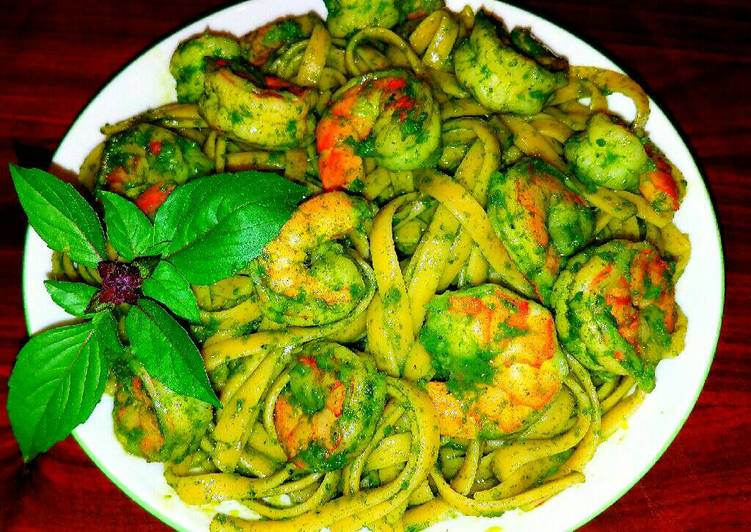 Ingredients
● For The Garden Fresh Pesto
1/2 Cup Quality Olive Oil
1 LG Bunch Fresh Parsley
1 LG Bunch Fresh Cilantro
1/2 Cup Lemon Lime Or Standard Basil Leaves or mix – packed
1 tbsp Lemon Or Lime Juice
10 Garlic Cloves
1/4 Cup Fresh Garlic Chives
1/2 tsp Red Pepper Flakes
1/2 tsp Fresh Ground Black Pepper
1/2 tsp Sea Salt
● For The Options to taste
Parmesan Cheese
Pine Nuts Or Walnuts not added here due to student allergies
Garlic Bread
● For The Pasta amp Shrimp
as needed Fettuccini Noodles
as needed LG Presteamed Peeled Shrimp
Quality Olive Oil
Method
Change Heres all youll need for the Pesto
Change Place everything in your blender You may need a dash of water if she isnt grabbing and pulling your herbs
Change Fully blended pesto pictured My students went with half standard Basil and half Lime Basil
Change Put this on pasta seafood chicken and more Seal it and allow it to refrigerate for several hours for best flavor
Change ● For The Shrimp amp Noodle recipe Boil your noodles as per manufacturers directions In the last 2 minutes of your hard boil – add your shrimp
Change Drain and add olive oil to shrimp/noodle mixture and gently mix
Change Add 2 large spoonfuls of Pesto and lift and separate noodles until pesto is fully mixed in
Change Sprinkle dish with shreadded Parmesan cheese Serve hot with garlic bread Enjoy!