A delicious, sweet, spicy, fresh hot Italian dish consisting of garden picked, sauted peppers, onions and tomatoes served over toasted thick garlic French bread slices. [this dish is basically a brother to bruschetta] Anyway, excellent work all around students! Your dish was so fresh and beyond appreciated!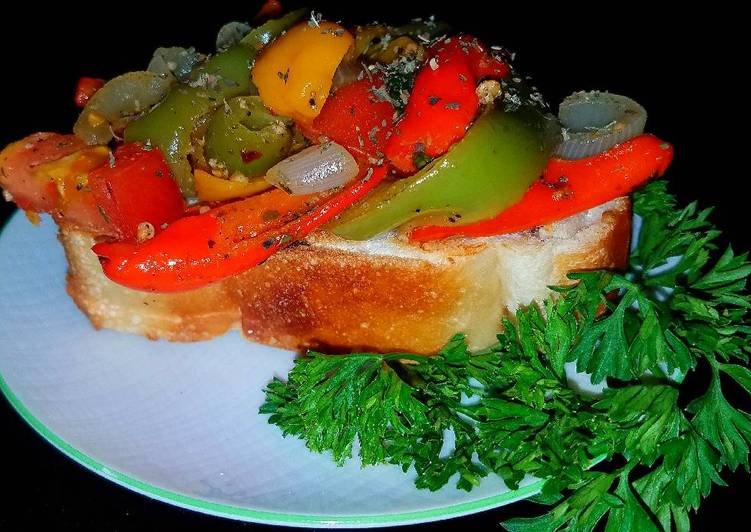 Ingredients
● For The Garden Fresh Peperonata de-seed all peppers
2 tbsp Garlic Olive Oil 2 tbsp butter
4 Cups Multi Colored Sweet Baby Peppers a must
1 LG Green Bell Pepper
3 LG Jalapeno Peppers
4 Roma Tomatoes to be added last
1 Cup Cilantro Leaves
1/2 Cup Green Onions
1 EX LG Sweet Viadalia Onion a must
Leaves Fresh Basil torn
2 tbsp Fine Minced Garlic
1 tsp Red Pepper Flakes
1 tbsp Fresh Ground Black Pepper
1 tsp Italian Seasoning
to taste Salt
● For The Breads as needed
1 LG French Fresh Or Toasted Garlic Bread Loaf thick sliced
8 EX LG Garlic Crustinins
4 LG Bagles halved
Warm Flour Tortillas
● For The Options
Cream Cheese
Balsamic Vinegar
Garlic EX Virgin Olive Oil
Hot Dogs it #39 s great on dogs!
Method
Change Chop all vegetables and saute until all are slightly translucent Youll want them somewhat firm Add herbs as well
Change Add firm seedless tomatoes last just until heated
Change Serve on thick toasted garlic bread slices large crustinins or toasted bagles with cream cheese All drizzled lightly with garlic olive oil
Change Serve hot on something crispy and toasty! Enjoy!