I swear, my 7 & 8 year old New Mexican students are nuts! Or, at least their taste buds are. I asked them this morning what masterpiece did they all want to create today. Each responded, Chili! I asked what type, Green Chile Stew? Hot Dog Chili? They all responded, No! Spicy Pork Chili with Ghost Peppers! [the peppers they grew in my backyard finally ripened] 🌶🌶🌶 Anyway, this was the spicy, delicious fruits of their labors!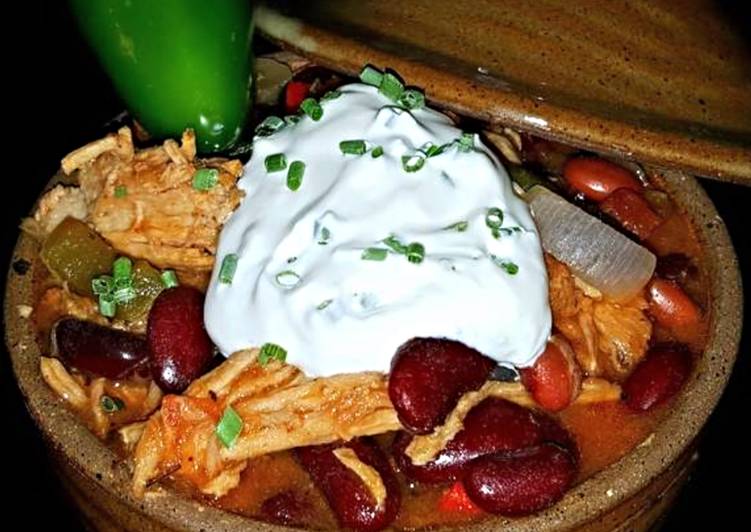 ● For The Meat
3 Pounds Frozen Pork Loin Roast boiled in water 1 can beef stock
1 1/2 tbsp Ground Cumin
● For The Chili
2 tbsp Bacon Grease
4 (15 oz) Cans Dark Kidney Beans drained
3 (15 oz) Cans Beef Broth reserve 1 can for pork boil
1 (15 oz) Can Crushed Tomatoes
3 LG Bhut Or Naga Jolokia Ghost Chiles fine minced – seeds left in
2 EX LG Jalape̱os Peppers de-seeded Рminced
1 LG Beefeater Tomato chopped
1/2 Cup Celery chopped
1 EX LG Viadailla Onion rough chopped
2 tbsp Fine Minced Garlic
3 tbsp Regular Chili Powder
2/3 Cup Green Bell Peppers chopped
1 tbsp Italian Seasoning
1 tbsp Worshestershire Sauce
1 tsp Fresh Ground Black Pepper
1 tsp Red Pepper Flakes
1 tbsp Smoked Paprika
2 tbsp Tabasco Sauce
● For The Sides amp Options
as needed Fresh Chilled Chopped Onions
as needed Fresh Chilled Cilantro Leaves
as needed Fresh Chilled Chives
as needed Chilled Shreaded Cheese
as needed Chilled Sour Cream
as needed Fresh Tortilla Chips
as needed Warmed Corn Bread
as needed Bottled Tabasco Sauce
Change 3 pounds frozen pork loin Boil in water for 3 hours until your roast can easily be shreaded apart by fork
Change Boil frozen roast in a slight amount of water and 1 can beef broth for about 3 hours Flip occasionally Youll want your fluids to eventually boil completely down Boil 15 hours if using an unfrozen roast
Change Chop all of your hard vegetables except for sides and options and sweat them in 2 tbsp bacon grease for 5 minutes Then while waiting on your pork to finishing boiling combine all vegetables with beef stock spices beans and simmer until soft About 30 minutes
Change Shread your pork apart with 2 forks and add your Ground Cumin Mix well
Change Add seasoned pork to vegetables and broth and simmer 15 minutes longer
● Side Note: At last minute one of my students decided she wanted a thickener Instead of corn starch she decided to add a 15 oz can of canned pre-fabed brand named Chili It ended up being a pretty good and darned tasty little idea!
Change Serve Chili piping hot with a large dollop of fresh sour cream shreaded sharp cheese chilled fresh chives cilantro and chopped white onions Also a side of Tabasco Sauce Enjoy!