I can t believe I m posting a recipe for hard and soft shell tacos. After all, who doesn t know how to make an easy assed taco nowadays? Well, those NOT in the know would be my tiny, sweet six year old culinary students. That s who! [i swear, they re so stinkin cute!] Seriously, they re so tiny, I literally have to lift them from the floor up for them to take their culinary directional photos for you every time. 😆 Anyway, my youngest students, Joseph, Kyle and Daffiny needed to post this recipe for their culinary web portfolios. So, thanks for your patience with this crazy easy taco recipe fellow Cookpad Cooks! Excellent work kiddos! Chilly, meaty, juicy and seriously spicy all at the same time! Your tacos were beyond fresh, crispy, chilly and delicious! I m so proud of you all! What a fantastic, fresh and crispy lunch this was for all of us today! Zero regrets!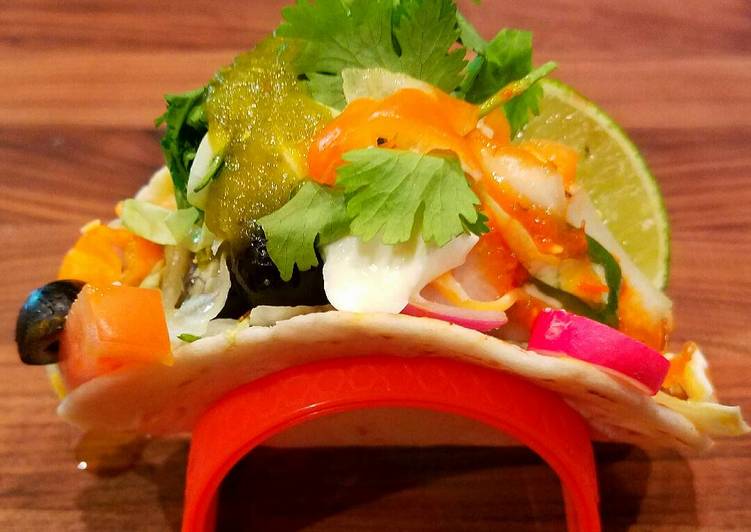 ● For The Chilled Vegetables chopped – as needed
Habenero Peppers
Shredded Cabbage
Shredded Lettuce
Chopped EX Firm Beefeater Tomatoes
Sliced Radishes
Chopped White Vidalia Onions
Leaves Fresh Cilantro
Chopped Red Onions
Halved Black Olives drained
dash Ground Cumin
Lime Wedges quartered
● For The Meats
2 Pounds 90/10 Hamburger Meat no need to drain meat
1 Pound Diced Pork Shoulder optional
as needed Beef Broth for steaming meat amp dissolving seasoning
3 Smashed Fine Minced Garlic Cloves
2 (4 oz) Cans Green Chili or 8 oz fresh hatch green chilies
1 Dash Ground Cumin
1 Dash Fresh Ground Black Pepper
2 tbsp Deyderated Onions
1 1/2 Packets El Paso Taco Seasoning you may not need all
● For The Sides as needed
Jalapeno Peppers
Mexican 3 Cheese
Green Salsa
Red Salsa
Sour Cream
Fresh Chives
Sliced Avacados
● For The Carbs as needed
6 quot Flour Tortillas
6 quot Corn Tortillas
Hard Taco Shells
Change Chop all vegetables and sprinkle with a dash of Ground Cumin and fresh Ground Black Pepper Authors Side Note: The red and green salsa pictured were made by a 104 year old Hispanic woman in Chihuahua City Mexico who literally wont cough up her secret recipes Yup It appears shes taking this one to the grave Stingy ole bag! But still delicious!
Change Optional ingredient: Rinse your pork shoulder and pat dry
Change Fine dice your pork shoulder of opting
Change Chop up your hamburger meat and add your green chilies cumin seasoning packet and beef broth Simmer meat until browned and fully moist and cooked No need to drain meat if using 90/10 grade
Change De-seed and dice your fresh green chilies Or add your canned green chilies to your hamburger and pork meat Also add a dash of Ground Cumin again to the mix!
Change Youll definitely need beef broth to thin your taco seasoning packet Then whisk! whisk! whisk!
Change If adding pork cubes – add 1 1/2 packets of taco seasoning If not just one packet is needed Old El Passo is a great OTC brand!
Change Enjoy your tacos with ice cold Mexican beers in ice cold frosty mugs!