You can also enjoy this dish with thick slices of toasted garlic bread. Just pile your chicken sauce on the top of it and eat it by hand. Use low sodium broth if you prefer your dishes a little less salty. Know that as this sauce reduces, the salt flavor will indeed enhance itself. But, we do adore that slightly salty touch! Serve with Green Tabasco.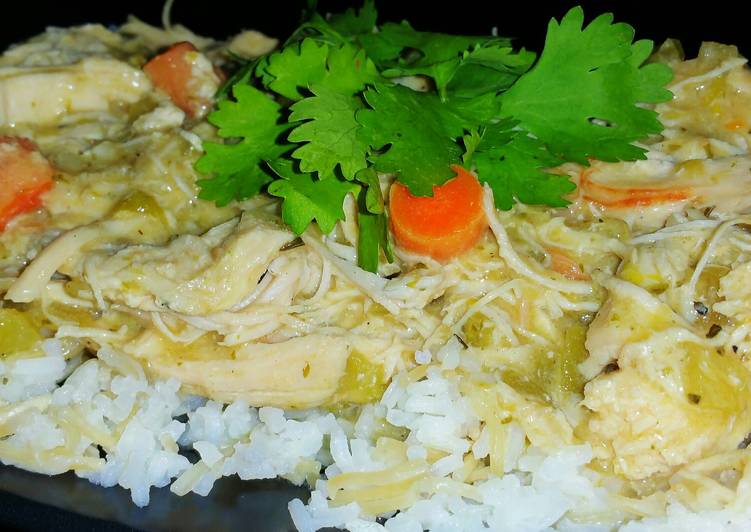 Ingredients
Chicken amp Broth
2 lb Boneless Chicken Breasts or 2 extra large breasts – fat trimmed
4 box 32 oz Chicken Broth with sodium – reserve 1 box
2 tbsp Fresh Parsley or 1 tablespoon dried parsley
1 can Campells Cream Of Chicken Soup
1/4 tsp Cracked Black Pepper
1 tbsp Minced Garlic
1/4 tsp Rosemary
1/4 tsp Thyme
2 tbsp Butter
1 large Bay Leaf
Vegetables
2 can 4 oz Green Chilies fully drained – or 8 ozs fresh roasted hatch green chilies
1/2 cup Celery With Leaves fine chopped
1/3 cup Whole Kernel Sweet Corn drained – optional
1/2 cup White Onions fine chopped
1/2 cup Carrots fine chopped
Options
Toasted Bread
Fluffy Rice
Dumplings
1 dash Green Tabasco
Noodles
Method
Change Heres about all youll need!
Change Add chicken fresh or frozen 3 boxes of chicken broth and all seasonings to your pot Boil for 1 hour or longer if frozen Reserve 1 box of broth for finish if needed
Change Pull chicken breasts from boiling pot Allow chicken to cool slightly and shread it finely by hand Discard anything yucky
Change Remove Bay Leaf from pot and add 1 can Campbells Cream Of Chicken Soup and 2 tablespoons butter to broth Mix well with whisk Then add shreadded chicken back in simmering pot By this time your sauce will have boiled down quite a bit and thickened You can thin it out slowly if desired with your 4th box of chicken broth if youd like to create a Chicken amp Dumpling dish or Chicken Noodle Soup
Change Small chop celery onions and carrots Add all to pot Add green chilies as well Taste test sauce at this point and decide if youd like more pepper
Change Boil covered until vegetables have fully softened Your carrots will be a great indicator Usually about 25 minutes Stir constantly as your ingredients will stick to the bottom of your pot Add corn at this point if desired
If making Chicken amp Dumplings you can use Pillsbury Canned Biscuits for extreme ease! If so cut all canned biscuits into quarters fours and separate them Then place them while still chilled into your boiling pot for the last 10 minutes at a high boil Know youll need to use your 4th box of chicken broth and maybe even water to accommodate your dumplings
If making noodles boil seperate from sauce as per manufactures directions Usually about 12 minutes with a dash of salt and olive oil Add drained noodles to your sauce Know youll need to use your 4th box of chicken broth and maybe even water to accommodate your noodles
If making rice boil seperate from sauce as per manufactures directions
Change Serve hot Enjoy!