It s Salsa Week here in the O Brien Shire so you know Habeneros are definitely on the roster! Just chop, simmer, chill and serve! If my 7 and 8 year old students can handle the heat – so can you! Great work kiddos! You do make your instructor proud!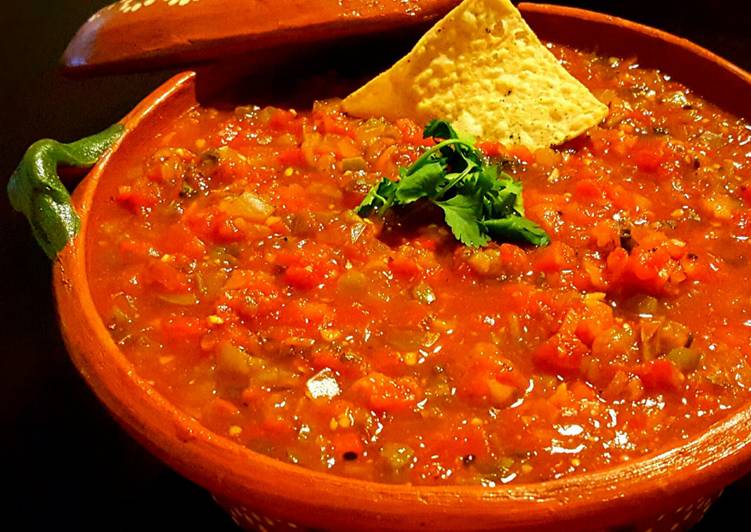 ● For The Salsa everything fine diced
3 (14 5 oz) Cans Diced Tomatoes
1 Firm Beefeater Tomato
2 (4 oz) Cans Green Chilies
1 (12 oz) Can Tomatillos drained – hand crushed
1 (10 oz) Can ROTELL Tomatoes
1 Firm Tomato
10 Habenero Peppers de-seeded
1 Pablamo Pepper de-seeded
3 Jalapeños de-seeded
1/2 Medium Green Bell Pepper de-seeded
1/2 Medium Red Bell Pepper de-seeded
1/2 Cup Red Onion
1/2 Cup White Onion
1 Bunch Cilantro Leaves
2 tbsp Fresh Garlic minced
1 tbsp Fresh Ground Cumin
1 tsp Mexican Oregeno crushed
1 tsp Fresh Ground Black Pepper
1 tbsp Red Pepper Flakes
to taste Lime Juice
to taste Granulated Sugar
to taste Your Favorite Hot Sauce
Change Fine chop all vegetables and mix
Change Simmer salsa for 45 minutes and chill
Change Serve with chips or to the side of most any Mexican main dish
Change Enjoy!