Wednesday s here in the O Brien Shire are usually reserved for freezer, pantry and crisper thinning days. Here s what my energetic students created. Ten minutes prep time is all this comfort food takes for you and your family. In fact, two of my 8 year old students knocked this stew out in less than five early this morning. Seriously, just set it and forget it!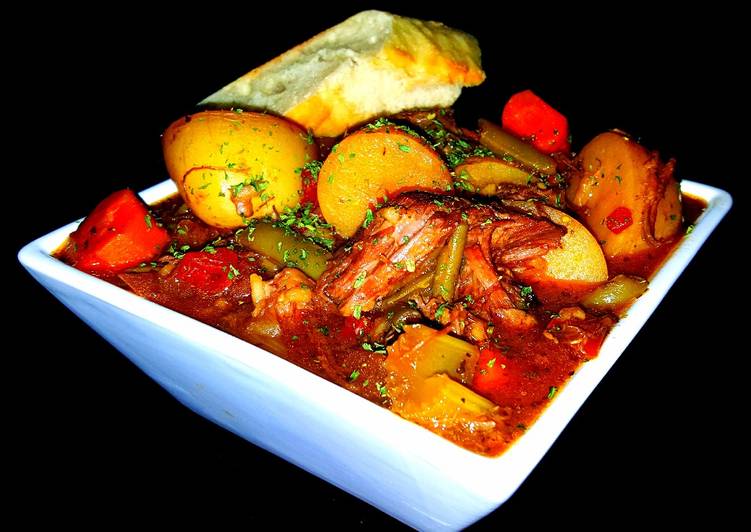 ● For The Starters
2 Pounds Beef Chuck Pot Roast
2 Pounds Bone Marrow Bones
3 (32 oz) Boxes Beef Broth reserve 1
2 tbsp Better Than Beef Bouillon reserve 1/2
1 tsp Fresh Ground Black Pepper
4 Cloves Whole Garlic
2 (1 5 Package) McCormick Or Knoors Beef Stew Seasoning reserve 1 packet
● For The Vegetables
2 Pounds Baby Golden Potatoes unpeeled – halved
2 Cups Carrots peeled amp 1 quot chop
1 1/2 Cups Thick Sliced Mushrooms
1 Cup Celery with leaves – 1 quot chop
1 LG Tomato chopped
1 (14 oz) Can Diced Tomatoes
1 LG White Onion 1 quot chop
1/2 Cup Green Onions chopped
1 Green Bell Pepper 1 quot chop – optional
1 Can Green Beans
1 Can Sweet Corn
1 tsp Rosemary
1 tsp Thyme
● For The Sides
as needed Fresh Toasted Baguette Bread
Change Heres what youll need for your base 2 pound pot roast and garlic hiding deep in the beef broth in a thick bottom pot
Change Add everything together in the ● Starter section
Change Boil for 2 hours covered
Change Chop your vegetables No need to peel your potatoes if using baby spuds
Change Refrigerate your vegetables and place potatoes in water as to not see them brown until youre ready for them
Change Pull marrow from your bones innards and place back in broth Whisk well Discard bones
Change Fork shread your roast and discard any fat chunks Add 4 cups water to broth Add remaining beef stew packet to taste Better Than Bouillon and beef broth if needed Whisk again
Change Add all vegetables to pot Simmer for 30 minutes longer covered
Change Lightly toast your Baguette bread
Change Serve with fresh toasty bread for dipping Enjoy!