What this delicious hot soup lacks in carbohydrates and calories more than makes up for in a myriad of fresh crispy flavors! And, what a great way to drop some quick extra pounds! Excellent work students! This recipe will last any dieter one week or better eating it twice per day. Then, eating one balanced meal at night. Happy eats!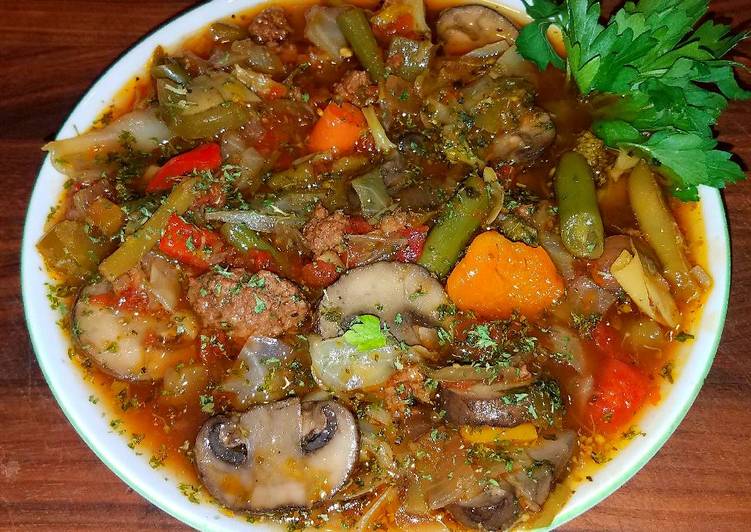 Ingredients
● For The Proteins you can also use chicken or seafood
2 Pounds 80/20 Lean Ground Beef
● For The Vegetables Seasonings amp Broth
6 (32 oz) Boxes Beef Broth
1 Box Thick Sliced Mushrooms
4 Medium White Onions
1 Small Head Broccoli
4 Cups Sliced Cabbage
1 Cup Sliced Carrots
1 5 Cups Sliced Celery
1 LG Green Bell Pepper deseeded
1 Medium Red Bell Pepper deseeded
1 Medium Yellow Bell Pepper deseeded
1 Medium Orange Bell Pepper deseeded
8 Cloves Chopped Garlic
1 Bunch Leaves Cilantro
1/2 Bunch Leaves Parsley
1 (8 oz) Can Spinach
1/2 Cup Of Your Favorite Red Salsa Sauce low sugar
2 (4 oz) Cans Diced Green Chilies
2 Cans Diced Tomatoes
1 Can ROTELL with chilies
2 Cans Green Beans drained
1 Can Asparagus drained
1 Can Artichokes drained
1/8 Cup Fresh Basil Leaves
1 tbsp Italian Seasoning
1/2 tsp Crushed Bay Leaves
1 tsp Red Pepper Flakes
1 tbsp Fresh Ground Black Pepper
2 tbsp Maggi Chicken Boullion Powder or more to taste
2 tbsp Liquid Beef Boullion
1 tbsp Worshestershire Sauce
2 tbsp Liquid Beef Boullion
1 tbsp Granulated Garlic Powder add last
1 tbsp Granulated Onion Powder add last
Method
Change Brown your beef in a large pot Drain any grease if needed
Change Add everything in the Vegetables Seasonings amp Broth section to your pot and bring to a simmer
Change Simmer for 30 minutes Or until your carrots have fully softened
Change Serve piping hot and garnish with fresh parsley Enjoy!