Here s one deliciously spicy dish you ll likely be served when you allow your six year old culinary students to run amock in your kitchen, pantries & freezers. Great recipe and photos kiddos! Your chili and sides disappeared within minutes! Definitely one of those keeper recipes!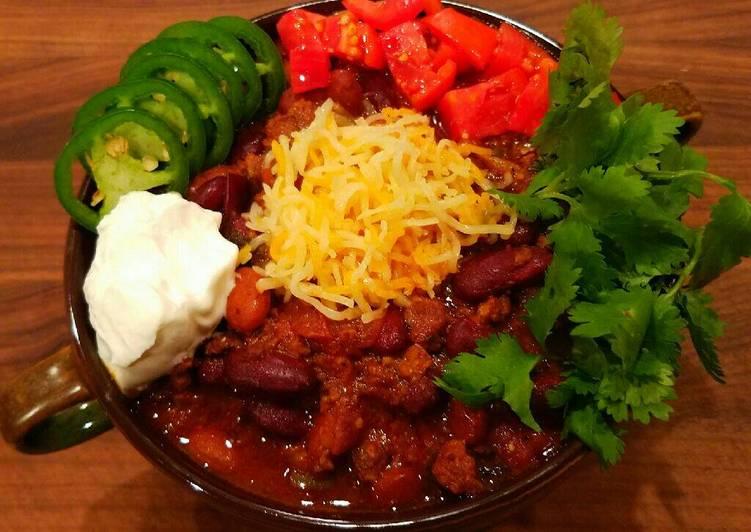 Ingredients
● For The Meats amp Proteins
2 Pounds 80/20 Ground Beef
2 Cans Kidney Beans drained amp rinsed
1 Can Pinto Beans drained
● For The Vegetables Herbs amp Fruits rough chopped
1 EX LG Firm Tomato
1 Can Crushed Tomatoes reserves
1/2 LG Green Bell Pepper
1/2 LG Red Bell Pepper
1/2 LG Yellow Bell Pepper
1/2 LG Orange Bell Pepper
1 LG Vidalia Onion reserves
2 LG Jalapeño Peppers reserves
1 (4 oz) Can Hatch Green Chilies
1/4 Cup Fresh Cilantro Leaves reserves
1 tbsp Fresh Basil Leaves
● For The Seasonings
1 Box 5 Alarm Chili Seasoning
to taste Fresh Ground Black Pepper
3 Dashes Worshestershire Sauce
1/4 tsp Red Pepper Flakes
1/2 tbsp Hot Paprika
to taste Tabasco Sauce we used 2 tbsp
1/2 tsp Ground Cumin
1/4 tsp Crushed Bay Leaves
1 tbsp Cayenne Pepper
1 tbsp Granulated Garlic Powder
1 tbsp Granulated Onion Powder
1 tbsp Chili Powder
1/4 tsp Dried Oregano
to taste Salt
● For The Fluids as needed
2 Cans Beef Broth
1 Bottle Dark Beer only as needed
● For The Options Or Sides as needed – fine minced
Shreadded Mexican 3 Cheese
Jalapeño Corn Bread
Chopped Tomatoes
Habenero Peppers
Jalapeño Peppers
Green Onions
Fresh Cilantro
Flour Tortillas
Vidalia Onions
Tortilla Chips
Sour Cream
Corn Chips
Tabasco
Method
Change Chop all vegetables
Change Fry hamburger meat drain if needed and add all seasonings
Change A great quick chili seasoning mix thats always worth the purchase
Change Add all vegetables and broth Hard simmer covered for 30 minutes Stir regularly
Change Add all beans and a dash or two of beer if needed to thin chili in the last 15 minutes
Change Place mixture in crock pot if not serving immediately and add shreadded cheese and sour cream if desired
Change Serve hot with any of the options listed above Enjoy!