Well, it s the end of Salsa Week here in the O Brien Shire. With that, my youngest 7 year old students decided to make a spicy fruit breakfast salsa for their school mates. Served alongside their homemade cinnamon tortilla chips. To save time, you can purchase pre-fabricated cinnamon tortilla chips. Stacy s makes a great chip if you re interested. But, nothing beats homemade! Does it?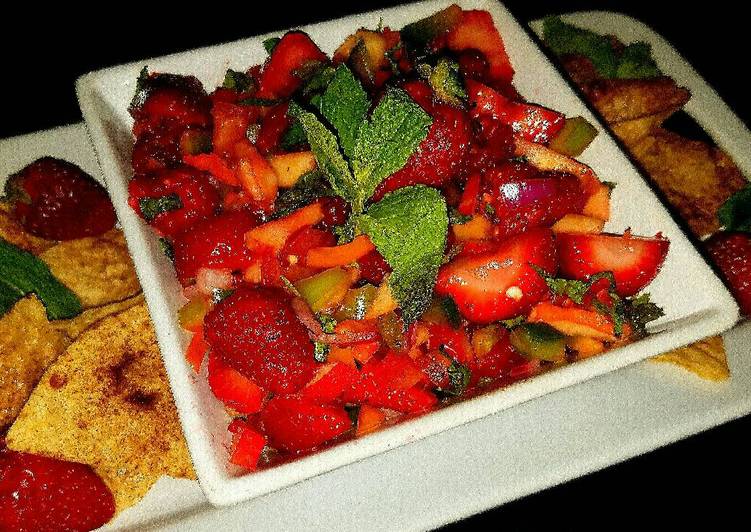 ● For The Salsa
3 Cups Fresh Strawberries
2 Cups Fresh Raspberries
1 Cup Fresh Mint
1 LG Red Apple
1 (8 oz) Can Minced Pineapple
1 EX LG Firm Beefeater Tomato
1 LG Jalapeño Pepper
1/2 Cup White Onion
1/2 Cup Cilantro
1 EX LG Pablamo Pepper or 2/3 cup
4 Habenero Peppers or 1/4 cup
to taste Fresh Ground Black Pepper
2 Limes juiced
2 Lemons juiced
1/4 Cup Each: Bell Peppers red orange yellow amp green
● For The Cinnamon Chips
1 Package Thick 6 quot Round Flour Tortillas quartered
as needed Fresh Ground Cinnamon
as needed Frying Oil
Change Heres what youll need Pineapple not pictured
Change Fine chop everything except for raspberries and strawberries Leave raspberries whole and quarter your large strawberries
Change Quarter your fresh flour tortillas
Change Fry in oil until tortillas are browned and crispy Work in 10 chip batches
Change Drain chips on thick paper towels and dust with no sugar ground cinnamon immediately so it sticks to chips
Change Serve chips warm and salsa ice cold
Change This salsa is excellent on toasted bagels with cream cheese as well Enjoy!