Some of my brand new students [two weeks in to their lessons] insisted upon smoking their own briskets. Heh! They can t even fry an egg at this point. Anyway, as usual, I relented. While they smoked a 3 pound brisket – I smoked a 20 pounder for the holiday. Needless to say – THEY NAILED IT! Great work kiddos! Your brisket was not only juicy, but smoky and delicious as well! I tell ya. There s no such thing as a stupid kid …. 😆 For best success, ask your butcher for the most limp brisket [meaning less connective tissue] and the best marbling and fat on top he has. You ll also want a brisket slab that s equal sized on all parts for balanced smoking.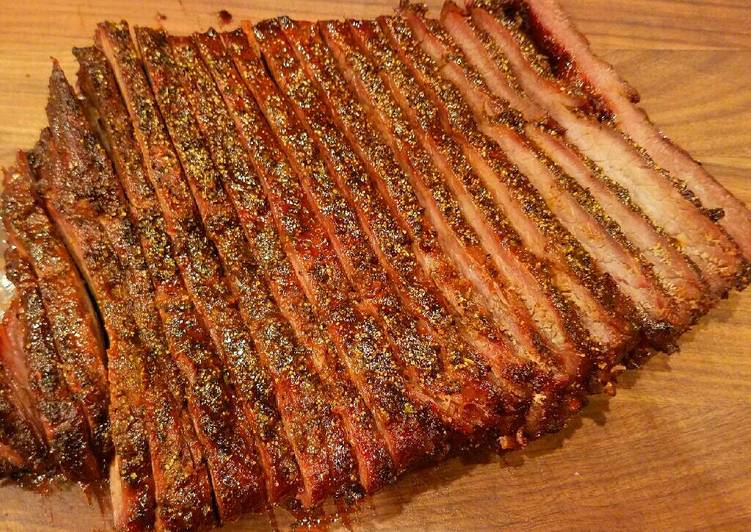 ● For The Meat amp Simple Wet Rub
3 Pounds Certified Angus Grade A USDA Beef Brisket
as needed Worshestershire Sauce
as needed Quality Olive Oil
● For The Rub
1/2 Cup Brown Sugar
2 tsp Fresh Ground Black Pepper
1 tsp Hot Paprika
1 tsp Granulated Garlic Powder
1 tsp Granulated Onion Powder
1 tsp Cayenne Pepper
1 tsp Fresh Ground Cumin
2 tbsp Table Salt
1 tsp Dried Parsley
1 tbsp Chili Powder
1 tsp Dried Oregano
● For The Smoker
as needed Oak Or Hickory Chips
as needed Water
● For The Injection
1 LG Culinary Injection Needle
as needed Salted Beef Broth
● For The Wood Chips as needed
Cherry Wood Chips
Apple Wood Chips
Hickory Wood Chunks
as needed Tepid Water
● For The Finish
Your Leftover Juices pour over smoking brisket
Additional Fresh Ground Black Pepper both sides
Change Pull out your meat rinse pat dry and trim off any unsightly fat Rub it down with enough olive oil and Worcestershire as needed
Change Make your dry rub and it mix well
Change Generously coat your brisket with all of your dry rub on top bottom and all sides Press it into your brisket
Change Wrap brisket up super tightly in tinfoil
Change Place wrapped brisket in a large pan and cover with another heavy pan Add anything else in your fridge to your top pan for additional weight Let brisket sit in the fridge overnight Reserve any juices that may drain for smoking
Change Sprinkle again well with more fresh ground black pepper on both sides
Change Optional: Inject Beef or chicken broth into your brisket with a culinary needle for added moisture
Change Add your apple cherry and hickory chips to your electric smoker with a cup of water
Change Heat smoker to 225° Place brisket fat side up Smoke for an hour Check temp at thickest point Smoke another hour 165° for rare – 185° to 190° for well done
Change Pull brisket from smoker and allow to rest for 5 minutes
Change Slice brisket and serve
Change Brioche Buns pictured
Change These make for great brisket sandwiches Just add cole slaw pickles and your favorite BBQ sauce on a large Brioche Bun
Change As for any sliced brisket leftovers – place them in an oven safe dish with a beef gravy as needed of your choosing Place in a 350° oven for 15 hours Longer if your brisket is well done This makes for excellent toasted open faced sandwichs and super moist Po Boys!
Change Try this stacked brisket sandwich with gravy on Brioche Buns or large rolls with shreadded lettuce tomatoes and red onions Juicy and delicious!
Change Enjoy!