Remember when we were kids & we were read fairy tales? Well, that s what I do with my students when we re waiting for bread to rise. Anyway, this week s challenges are all about culinary fairy tales. Well, some of the most recent stories I read them were of Stone Soup & James & The Giant Peach. For those in the know, the first is a story about starving travelers who had nothing to their names other than a massive cooking pot. When they came upon a town & asked for food, the townspeople quickly shunned them & held tightly to their reserves. With that, the starving travelers were forced to think of something creative. Eventually they filled their large pot with water, heated it & added rocks. As the townspeople passed, their inquisitive nature took hold & they asked what the travelers were doing. The travelers responded, Why, we re making the best soup you ve ever tasted! The only problem is, is that it seems to be missing something? At that point, a farmer spoke up and said Well, I have some carrots in my cellar I can afford you. As time quickly passed, the travelers continued to make that same proclamation. Again, another townsperson would offer onions, another spuds, some corn, many fresh bread & seasonings, beef and pork scraps. Before everyone knew it, there was a massive pot of soup large enough to feed the entire town. Well, my students took a page from those books and happily fed the homeless with it today at 4:30 a.m. Stone Soup & Peach Cobbler for all!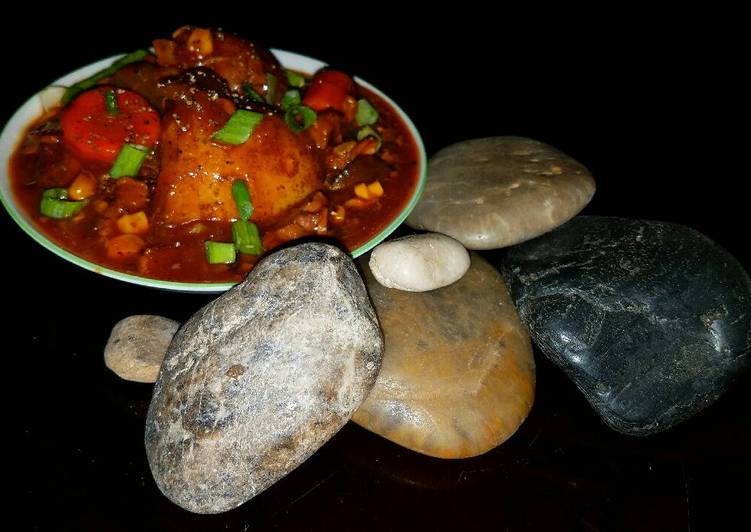 Ingredients
● For The Basic Broth
4 (32 oz) Boxes Beef Broth
1/4 Cup Quality Red Wine 1/4 cup reserved
1 tbsp Fresh Ground Black Pepper
3 Packets McCormick Beef Stew Seasoning reserve 1/2 of 3rd
1/2 Can Tomato Paste
2 LG Bay Leaves
● For The Fresh Vegetables
3 LG Celery Stalks 1 quot cube
3 LG Carrots 1 quot cube
2 LG Tomatoes cubed
1/2 LG White Onion sliced
1/2 LG Red Onion sliced
1 Can Sweet Corn drained
1 Can Green Beans drained
1 5 Cups Fresh Mushrooms sliced
10 Baby Russet Potatoes left whole
8 Medium Idaho Potatoes halved
1 Medium Green Bell Pepper 1 quot cubed
10 Cloves Whole Garlic Cloves chopped
● For The Meats
4 lbs Beef Stew Chuck 1 quot chop Worshestershire Sauce
1/2 Packet McCormick Beef Stew Seasoning 3 tbsp Flour
2 lbs Pork Shoulder boiled and shreadded
1 tbsp Kitchen Bouquet
● For The Thickener
2 tbsp Corn Starch more if needed
2 tbsp Water
● For The Finish
4 tbsp Dehydrated Onions
1 tsp Granulated Garlic
1 tsp Granulated Onion
1 Good Dash Au Jus Extract
1/4 Cup Quality Red Wine
Method
Change Usually I provide all of the ingredients for my students classes but today each student brought their own individual ingredient in honor of the fairy tale of Stone Soup They made 6 massive batches of this soup/stew Anyway heres your easy basic broth 0)
Change Chop all vegetables and add to pot with broth
Change Chop your beef into small cubes
Change Season beef in a Zip lock Bag
Change Place beef in heated pan and sear meat with flour and 1/2 packet of beef stew seasoning
Change Fry until seared
Change Boil raw pork meat until fully cooked and fork shread
Change Add all meat to pot Allow to simmer for 3 hours Gently stir from bottom as to not break up potatoes
Change Warm bread pictured
Change Serve hot with fresh bread Enjoy!
Change This is a great cooking wine!