Don t you hate it when you spend hours upon hours preparing delectable, sophisticated and detailed dishes. But, you re somehow mostly appreciated for those meals that literally take you less than ten minutes to prepare? You know – those idiot proof recipes of yours? Well, this is certainly one of mine. Hopefully I m not sounding arrogant but this is one of my most [americanized] requested dishes by my family, students and neighbors. They asked me to post. So, here goes my incredibly simple, foolproof Taco recipe with tips. Just know that these Tacos and Tostadas are all about the options. From the meats, to the fresh chilled veggies, to the homemade salsas. Do excuse the overly detailed directions and photos. Seven overly enthusiastic eight year olds both pictured and posted them for me last night. After all, it was Taco Tuesday here in the O Brien Shire! Anyway, in the end, I suppose fresh, chilly, crisp, homemade and firm is what this dish is all about. Enjoy!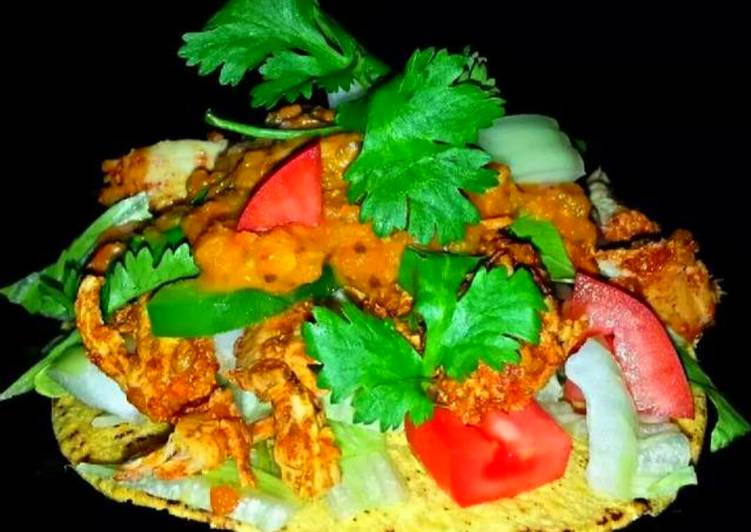 ● For The Meat as needed
80/20 Ground Beef
● For The Shells as needed
Fresh Flat Tostada Shells
Fresh Flour Tortillas
Fresh Taco Shells
● For The Vegetables Additions amp Toppings all chilled – as needed
Taco Bell Seasoning Packe one for meat – one for refried beans
Firm Black Olives sliced
Fresh Cilantro Leaves chopped
Red Onions chopped
Iceberg Lettuce shreaded
Cabbage shreaded
Shreaded Mexican 3 Cheese
Viadailla Onions chopped
Firm Beefeater Tomatoes chopped
Jalape̱os minced Рseeds amp membranes removed
Fresh Minced Garlic
Fresh Lime Wedges amp Juice
1 Can Beef Stock with sodium
2 Cans Rosarita Refried Beans one of the better brands
Firm Avocados sliced – lightly drizzled with lime juice
2 tbsp Dehydrated Onions don #39 t use fresh onions
Radishes sliced
Sour Cream add fresh chives if possible
Homemade Salsa see recipe
Homemade Green Salsa see recipe
Homemade Habenero Sauce see recipe
1/2 tsp Mexican Oregeno crushed
Queso Fresco Cheese
● For The Options all dusted with Taco seasoning
Sliced Sirlon
Shreaded Chicken
Chopped Shrimp
Change Start with 80/20 ground beef Theres no need to strain this specific extra lean blend
Change One of the better more familiar Americanized pre-fabed Taco Seasoning mixes This brand is always a REAL time saver After all Im always about the easy if it works!
Change Instead of adding your dry packet seasoning mix into your dry fried ground beef and risk clumping Or even adding plain water to moisten and dissolve it Try using a 1/2 cup of beef stock for moisture and additional flavor Mix steam simmer and cover
Change Add a good pinch of ground cumin a dash of Mexican Oregeno crushed fresh ground black pepper fresh minced garlic and 2 tbsp dehydrated onions Cover and simmer Add additional beef stock if need be Be sure to use dehydrated onions Believe it or not they really do make the beef part of the dish
Change Chop fresh chilled shreadded cabbage lettuce with drizzled lime juice tomatoes cilantro Viadailla onions for sweetness firm black sliced olives hidden under tomatoes jalapeños with radishes and refrigerate Make sure all vegetables are super firm crazy snapy fresh and chilled! It does make a huge difference!
Change For the Stacked Refried Beans Add a bunch of fresh chopped sweet onions a 1/2 cup Mexican 3 Cheese firm tomatoes with no seeds cilantro leaves minced garlic jalapeños a 1/2 packet of taco seasoning and a dash of your favorite red salsa Just heat and serve Thats it folks! Easy peasy! No secrets here! You can sauté your vegetables if you want them soft but we dont here in New Mexico
Change Fresh chilled sliced Avocados drizzled with lime juice for flavor and to keep them from browning
Change Fresh chilled Sour Cream Add fresh diced chives to it if you have them on hand Theyre always appreciated!
Change Fresh homemade guacamole See my recipe for Mikes Fiesta Guacamole under my profile if youd like
Change Homemade habenero sauce See my recipe for Mikes Garlic Habenero Chili Sauce under my profile if youd like
Change Homemade chilled salsa See my recipe under Mikes Authentic Salsa I received this recipe from a native Mexican in Mexico City when I was a kid Its clean pure crisp and crazy delicious!
Change Homemade chilled Green Salsa See my recipe for Mikes Very Verde Salsa if youd like Here in New Mexico we usually employ both red and green salsa on everything we eat In fact we typically call it Goin Christmas on their asses!
Change Feel free to check out my Mikes Creamy Avocado Dip And Spread if youd like
Change Queso Fresco Cheese You will want to crumble it up a bit
Change Fresh shredded Mexican 3 Cheese blend
Change Red Onion and cilantro leaves always make for a pretty colorful delicious garnish
Change You can use fresh lime wedges or lime juice Your choice Used mostly to keep fresh ingredients from browning as well as for flavor Either works just as well Its up to you!
Sliced sirlon shreaded chicken and shrimp mixed with your basic Taco seasoning goes great with these as well Just make sure your proteins are hot and your sides are super crispy and chilly! Enjoy!