Okay. So, here s why kids aren t stupid. Since my students were all having a picnic here in my backyard for lunch, this mornings lesson was on easy, delicious picnic ideas. With that, I charged one of my youngest 8 year olds to make any side dish she desired. So long as it was ice cold. [seriously, it s over 90° here in Albuquerque today] Anyway, while directing other students with their entrées, my tiny, imaginative student Ryder scurried off on her own out to my garden and happily helped herself. Everything listed in her recipe is fresh picked from my garden and my herb garden. Except for her bottled dressing of choice. And, all hand chopped by her. ♡ Fellow Chefs? She completed this delectable tangy task so fast, I had no clue what she had actually created. [so much for diligent child supervision huh?] That is until they were out the door for school. When I looked in my fridge, I stumbled across a grand cucumber salad that had been literally drug through the freshest part of my gardens! This is an incredibly easy dish that s sure to please and impress every time! She s easy, she s fresh, she s crispy, she s flavorful, she s chilly and she s so deliciously tangy! It was definitely a hit with all the kids! Give her a try and get creative with this recipe! Be sure to use all of this salad up the first day. By the second, the vinager marinade will have broken down your vegetables and will lend an unattractive, murky sauce to it.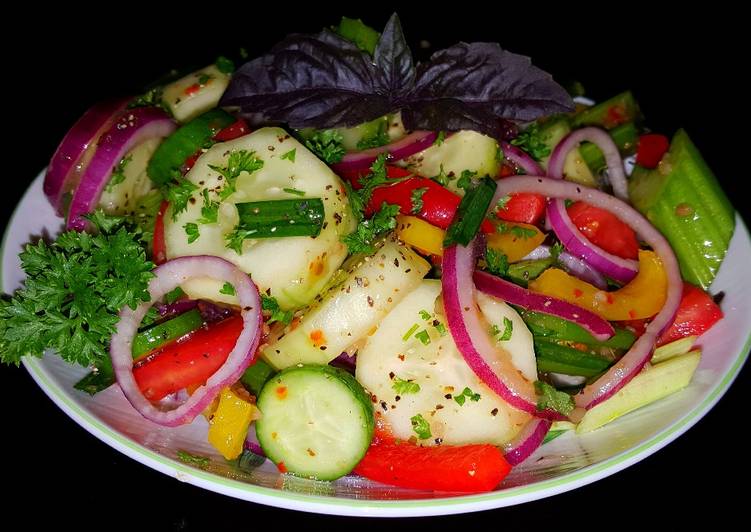 ● For The Tangy Garden Fresh Summer Salad
2 LG Firm Garden Cucumbers ends cut – peeled – thick sliced
2 Firm English Cucumbers ends cut – unpeeled – thin sliced
1/2 LG Purple Onion thin round slices
1/3 Cup Yellow Bell Peppers chopped
1 1/2 LG EX Firm Beefeater Tomatoes
1/3 Cup Red Bell Peppers chopped
3 tbsp Fresh Chives chopped
1 Cup Fresh Celery 1 quot chop
2 tbsp Fresh Basil chopped
1 tbsp Fresh Dill minced
to taste Fresh Ground Black Pepper
● For The Italian Dressing
1 (16 oz) Bottle Kraft Zesty Italian Dressing well shaken – you may not need all
● For The Garnishments
Fresh Ground Black Pepper
Fresh Parsley
Fresh Basil
● For The Options
1 tbsp Granulated Sugar
1 tsp Red Pepper Flakes
Change Rinse and chop all vegetables and herbs and place in a large plastic bowl with a tight fitting lid Add 3/4 of your shaken bottle of Kraft Italian Salad Dressing and mix well but gently You dont want to bruise your veggies
Change Cover tightly and refrigerate for 3 hours Gently flip covered bowl every occasionally to re-coat vegetables Serve cold and garnish with fresh parsley and basil Enjoy!
Change
Change Serve this garden salad ice cold Thats it! Easy peasy! Garnish with fresh ground black pepper fresh parsley and basil Gently stir before serving Enjoy!
Change Another great brand to consider
Change They also made some fantastic Chicago Garlic Beer Brats I should have them post the recipe
Change Boiled in beer then scored and grilled!
Change Pickles onions tomatoes sport peppers celery salt ketchup and mustard! So juicy and seriously delicious!