Most aren t aware that authentic Tortilla Soup was once pretty much that, tortillas & chicken broth. Amenities such as veggies and spices were affordable to few migrants so only the basics were served. Well, they ve come a LONG way baby! Today, it s commonplace to find chicken, chiles, cheeses, onions, herbs, garlic, celery & carrots in this festive dish!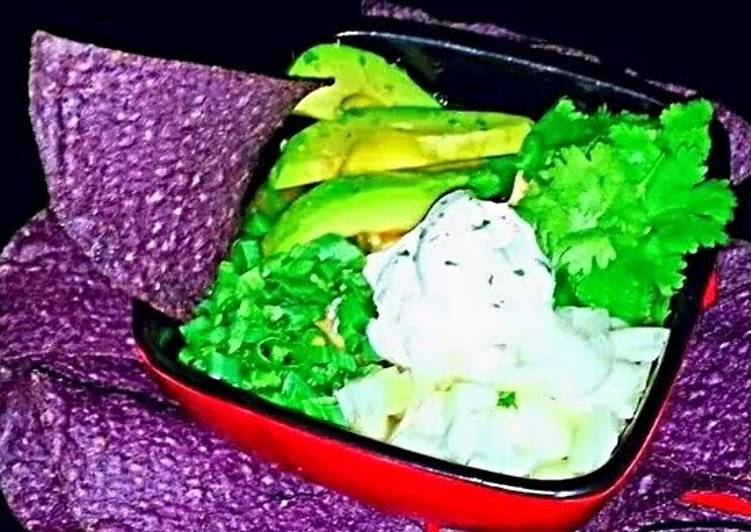 Ingredients
Chicken Tortilla Soup amp Garnishes
3 lb Shredded Chicken rotisserie chicken preferred
2 (32 oz) Boxes Chicken Broth
1 1/2 cup Each: Celery With Leaves amp White Onions
1 cup Fresh Carrots chopped
1 cup Fresh Cilantro
3 large Jalapeños diced amp de-seeded
6 large Roasted Hatch Green Chili #39 s Or 7 oz Can Diced Green Chil
1 large Tomato Or 10 oz Can Rotell Tomatoes
1 cup Corn
1 tbsp Each: Ground Cumin – Onion Powder
1 1/2 tsp Lime Salt – Sea Salt Or Powdered Chicken Bouillon
1/3 tbsp Coarse Ground Black Pepper – Red Pepper Flakes – Cayenn
2 tbsp Minced Garlic Or 1 tablespoon Powdered Garlic
1 tsp Lime Juice if not using lime salt
1 12 quot Flour Tortilla cut into spoon sized bites – add in the la
1 Handful Mexican 3 Cheese to tame amp thicken
1/4 tsp Mexican Oregano
2 tbsp Of Your Favorite Salsa optional-hot or mild just for a
1 GARNISHES / TOPPINGS: Colored Tortillas deep fried Mexican 3
1 White Onions РGreen Onions РCilantro РJalape̱os РLime Wedg
Method
Always keep your chicken or other bloody meats/seafoods away from any of your kitchen items or foods This will help prevent any cross contamination
Change Pre-cooked and hand shredded Rotisserie Chicken seems to work best in this dish for roasted flavor purposes Its also much less work Just shread it into spoon sized pieces and place in a larger pot
If using raw chicken or chicken breasts trim the fat and wash your chicken then simply boil them in chicken broth or water until fully cooked before going any further
Again if using chicken breasts check for doneness by sticking a knife in the thickest part of your largest chicken breast after 25 – 30 minutes of boiling Make certain all fluids run clear and not pink If at all pink or red in color boil until ALL fluids run clear
Change Place everything together other than your bite sized Tortilla pieces and anything in the GARNISHMENTS / TOPPINGS section in the same larger shreadded chicken pot and simmer for 1 hour at a minimum Longer if at all possible
Change In the last 5 – 10 minutes of boiling meaning your carrots are fully cooked add your chopped spoon sized Flour Tortillas to your pot These will serve you well as both a soup thickener and a tummy filler
To serve ladle soup in bowl and have your guests garnish their bowls with as many GARNISHMENTS / TOPPERS as they desire These toppings are also essential to the meal since most will actually curb much of the Scoville heat add fantastic contrasts and flavor and round your meal all together
Authors Note: You can purchase multi colored pre-fried Tortilla strips in most chain stores However if you cannot simply purchase multi colored flour Tortillas cut into thin strips and deep fry in a high heat oil until crispy Then drain on a paper towel or equivalent Or you have the option of serving whole larger pre-packaged chips
Change Serve this soup with this EASY Cheddar Green Chile Corn Bread Use a basic box of Jiffy Brand Corn Bread and mix according to manufacturers directions Add to that 1/2 cup fine chopped Hatch Green Chilies or Jalapeños 1 teaspoon Cumin and 1/2 cup Cheddar Cheese Sprinkle top with Cheddar as well Bake as directed
Change Enjoy!