ITALIAN HERBAL BREAD…. my.first time from scratch…. i used the HERBAL.BUTTER from my profile… thanx to WOODSMAN for all of his tips! !! 🙂 :hungry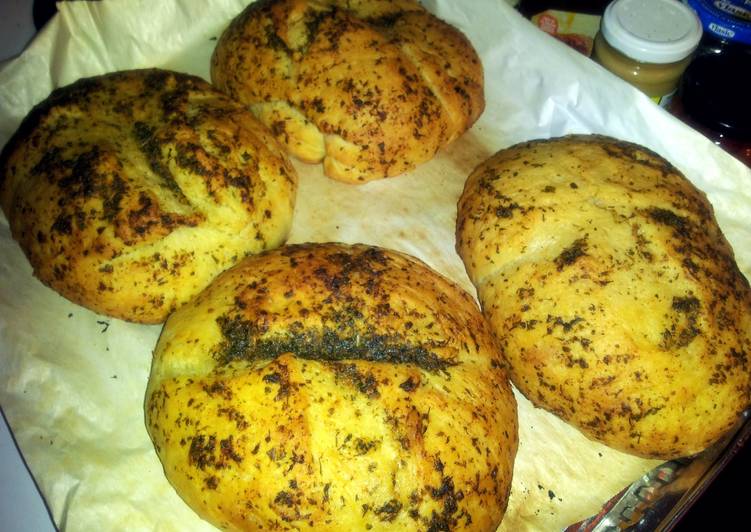 Ingredients
2 cup light flour or all purpose
4 cup BREAD FLOUR Pillsbury was $2 50
yeast
3 cup very warm water
1/2 tsp sugar
1 packages instant yeast
1/2 tsp salt i used non-iodized
for cutting board
1 cup all purpose flour use to dust service will not need all of it but use some to dust when u knead
Baking
1 ****- non-stick spray
1 **** parchment paper
1 **** cookie sheet
1 **** can use cast iron dutch oven greased
ITALIAN SEASONING
1/2 cup olive oil
2 tbsp ground parsley
1/4 tsp salt
1/3 tsp garlic powder
1 ***** 1/8 tsp black pepper
1/4 tsp thyme
2 tsp lemon juice
Method
MIX ALL THE INGREDIENTS FOR THE ITALIAN SEASONING IN A BOWL refrigerate until its needed
mix all the YEAST items in a a bowl allow it to foam for about 5 minutes
put 6-7 cups of the flour mixture slowly add yeast mixture and mix with rubber spatula until it seperates from the side of the bowl turn out on floured service and knead for 4 minutes spray inside the bowl with non-stick spray put dough back in bowl cover with clear wrapand sit for 1 hr
I sat mine in the oven off for 1 hr
it should rise lightly flour the surface and turn the dough out and knead for about 5 Minutes spray bowl again and spray clear wrap again let rise for another hour
pre-heat oven at 500 ° including pan that u cook the bread on
turn out on lightly floured surface divide into 2 loaves allow to rise covered with a towelfor 30 minutes
shape them into oblong loaves OR make round and put in a greased cast iron Dutch oven
when u get ready to bake u should use a paint brush to paint loaves liberally with the olive oil mixture!!
cut an x if it is round and cut slashes in a loaf before placing it in the oven turn down to 375° and bake for 15 mind and place more of the olive oil mixture liberally
finish baking for another 20-30 minutes put more of the olive oil mixture on the warm bread and put on cooling rack
ENJOY!!!
***** THIS RECIPE AND MY DESIRE TO TRY BAKING CAME FROM WOODSMAN!!! THANK YOU SOO MUCH!!!