From my Facebook recipe page ChrisO s Kitchen Rules! .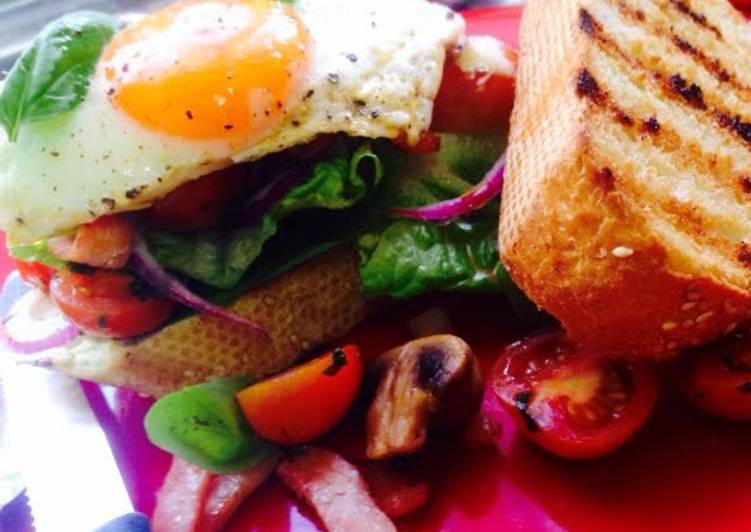 Ingredients
2 Sliced thick crusty bread
1 Rasher bacon sliced
1 Egg
1 Baby cos lettuce
1 Fresh basil chopped (some extra leaves to serve)
4 Cherry tomatoes halved
1 Finely sliced red onion
3 or 4 little button mushrooms halved
1 tbsp Honey
2 tbsp Whole egg mayonnaise
1/2 tsp Dijon mustard
1/2 tsp Whole grain mustard
1 Splash of red balsamic vinegar
1 Olive oil
1 Salt and pepper
Method
Grill your bacon and when almost cooked remove- mix with honey and return to finish Set aside
Change Mix tomatoes olive oil balsamic vinegar and basil in a small bowl and set aside
Change Mix mayo and mustards and set aside
Change Fry mushrooms in butter until golden and set aside
Change Drizzle some olive oil on one side of both slices of bread and place on a heated lined grill Grill both sides until youve got some good coloured lined on both sides
Change Fry egg in pan on low heat
Change Time to stack! Bread mayo cos tomato onion mushies bacon egg sea salt and cracked black pepper Some fresh Parmesan would have been a real winner in hind site but none the less a great way to start the day and well worth the effort Enjoy!