With working, rearing a 6 month old, and squeezing in dinner before my husband goes to work in the evenings I find myself often short on time. So a lot of recipes I ve been developing lately are focused on convenience and speed, while hopefully maintaining interesting and varied flavors. This particular dish came about from my craving for something with Greek flavors, but not having the time to do anything from scratch. Normally I would make meatballs from scratch with all the seasoning infused, but alas time crunch again. Lol. Although not authentic or fresh meatballs it did in a pinch and I hope you enjoy!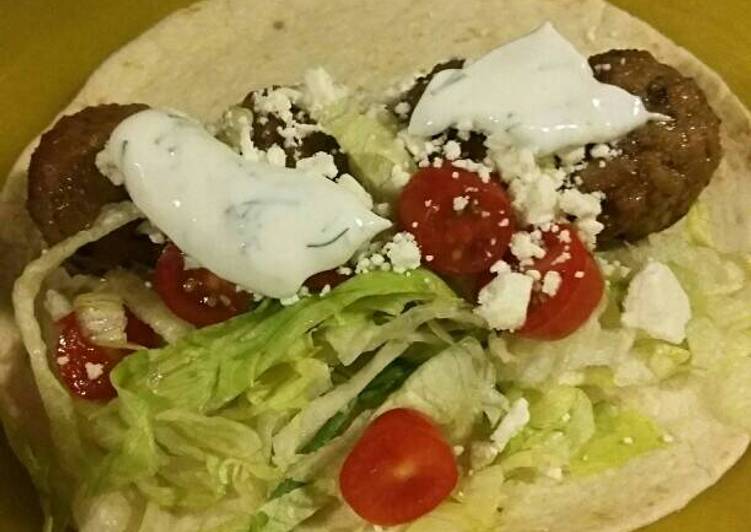 Ingredients
1 bag frozen meatballs
1 cup beef broth
4 tbs unsalted butter
2 tsp dried parsley
1 tsp dried oregano
1 tsp dried basil
1 tsp dried marjoram
1 tsp garlic powder
1/2 tsp dried thyme
1 cup Greek yogurt
1/4 cup fresh dill – finely chopped
1 lemon juice of
Pita pockets flat bread or fajita size flour tortillas
Feta cheese shredded lettuce diced tomato for serving
Method
In a small bowl wisk together yogurt lemon juice dill and a pinch of salt Cover Refrigerate at least 1 hour
In a large deep sided sautée pan melt butter over medium heat Add meatballs Stir to coat meatballs in butter Cook 2 minutes to begin thawing and browning
Stir in parsley oregano basil marjoram thyme and garlic powder Cook stirring frequently until exteriors of meatballs begin to brown and herbs begin to smell fragrant About 5 minutes more
Add beef broth to pan Bring to a boil Cover Reduce heat to medium low and simmer until meatballs have absorbed most of the liquid and plumped up About 10 minutes
Serve in pita pockets tortillas or flat bread Top with lettuce tomatoes and feta Drizzle with lemon-dill sauce Enjoy!