Sunchokes or Jerusalem artichokes are great for making soups, and if you take the time to roast them beforehand, it will really bring out their natural sweetness and deeper flavor. I use a combo of broth and milk to give the soup a nice, creamy porridge-like texture! Goes well with hearty breads or sandwiches.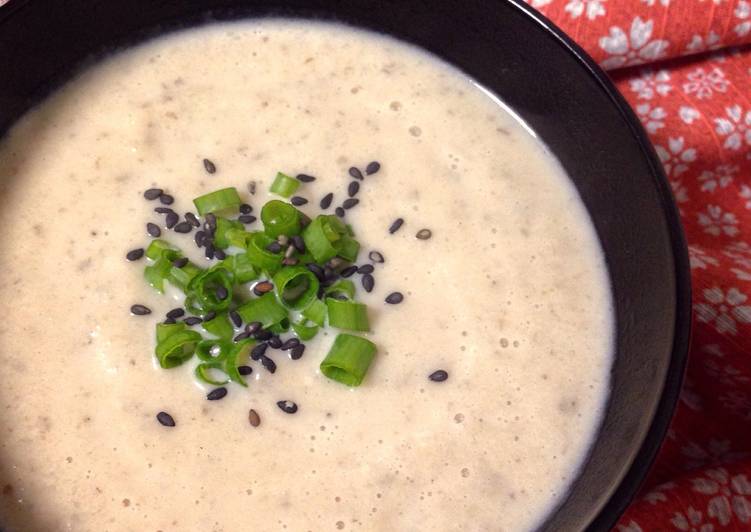 Ingredients
— Roasted Sunchokes —
1 pound or 450 g sunchokes (Jerusalem artichokes)
1 sprig fresh rosemary or 1 tsp dried
1 Tbsp olive oil
— Soup —
1/2 onion thinly sliced
1 clove garlic thinly sliced
1 Tbsp butter or olive oil
1 cup vegetable or chicken stock
1 cup whole milk
Salt amp pepper
Chives or parsley to garnish
Method
Change Wash and scrub your sunchokes very well I leave the skin on because I like the earthy flavor but you can peel it off if you want a smoother texture and cleaner white color
Change Preheat your oven to 400°F/200°C Cut the sunchokes into bite-sized chunks and toss with a little salt and pepper and about 1 Tbsp olive oil Roast in the oven for about 30 minutes or until they start to turn brown and a bit crispy
Change Meanwhile heat about 1 Tbsp butter or olive oil in a heavy pot and sauté the onions and garlic on medium-low until soft and translucent (about 10 minutes)
Change Add the roasted sunchokes to the pot and pour in 1 cup of stock – it should just cover the sunchokes Bring to a boil then turn to low and cover with lid Simmer for 20-30 minutes until the sunchokes are nice and soft
Change After 20-30 minutes add 1 cup of milk to the pot and cook on low for another 5 minutes (NOTE: If you dont have a food processor or mixer/blender of some kind mash the sunchokes with a fork or masher before adding the milk )
Change If you have a food processor/mixer blend the soup into a smooth consistency Add a little more milk or stock if its too thick Adjust the taste with salt and pepper
Change Serve into bowls and garnish with parsley or chives Enjoy!