A delicious soup AND fresh bread in under an hour? Impossible! you say. However it is possible with a simple soda bread which takes minutes to prepare and bakes in half an hour. Team it with simple vegetable soup and you ll have a delicious hearty meal the family will love.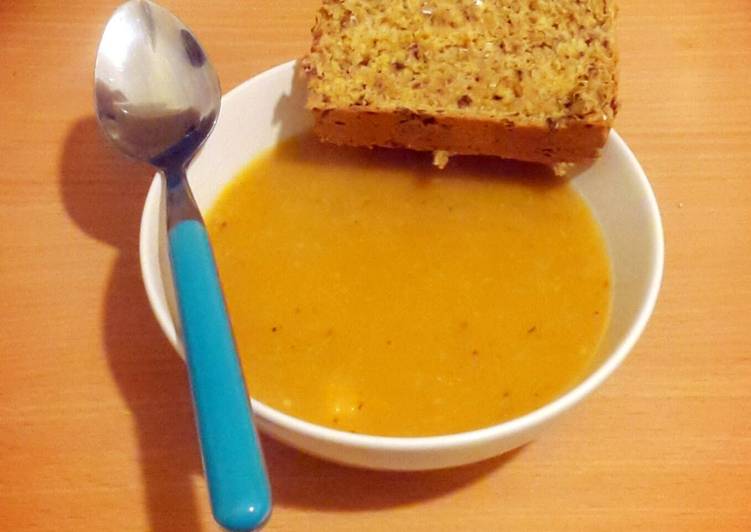 Ingredients
The Bread
500 grams flour (I used a malted strong flour but you can use plain)
5 grams salt
10 grams bicarbonate of soda
375 ml milk
25 ml cider vinegar
The Soup
1 tbsp sunflower oil
1 onion
1 clove garlic
2 stick celery
1 medium sweet potato
2 medium parsnips
3 small potatos
500 ml hot water
1 stock cube (I used chicken)
1 dash thyme
1 dash cracked pepper
1 dash freshly grated nutmeg
Method
Preheat oven to 200° celcius grease a 1-pound loaf tin with some sunflower oil
Mix the flour salt and bicarb in a large bowl Make a well in the centre of the flour and pour in the milk and vinegar then combine into a wet sticky dough with your hands
Change Place the dough onto a floured surface and work it into a rough ball – itll still look pretty porridge-y but put it into your greased tin and pop the tin into the oven for 30 minutes
Meanwhile heat the rest of the sunflower oil in a saucepan
Peel and chop the onion and put it into the pot over a low heat to soften
Change Peel and chop the garlic and pop it into the pan with the onion Slice the celery and add to the pot with the rest of the flavour-base
Change Whilst the flavour-base is softening peel and chop your root vegetables These can be swapped for your favourite root veggies or whatever you have in the house Add to the softened onion/celery mix
Change Pour enough hot water to cover all the vegetables and stir in your stock cube (or you could use liquid stock instead of a stock cube and water) Add the herbs and season to taste
Turn the heat up and bring the soup to a boil then lower heat and simmer the soup until the root vegetables are soft
Change When your bread is done remove from oven and cool on a wire rack The bread should be a nice deep gold colour
Change Once all the vegetables are soft remove the soup from the heat and purée with a stick blender Once blended ensure you taste the soup again and season to taste
Change Serve the soup with a couple of slices of your delicious bread!