There are many variations of this recipe and most are similar but use beer. This does not and is super easy. Total cook time is 9 hours on low or 5 hours on high.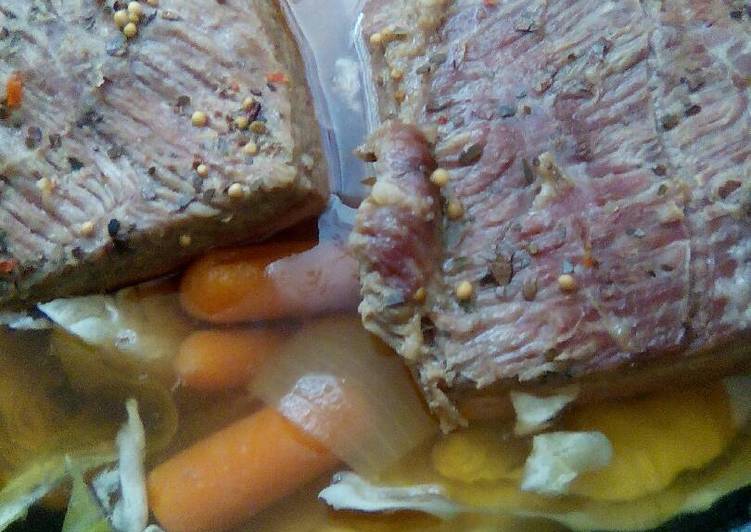 1 Corned Beef Brisket – 3-4 lbs w/seasoning packet – rinsed
8-10 Small-Medium Red or Yukon Gold Potatoes Cut in half
3 Medium Onions – quartered
1 Bag Baby Carrots
1 Small Head of Cabbage quartered cored rinsed
to taste Kosher Salt
to taste Black Pepper
to taste Onion Powder
32 oz Low Sodium Beef Broth
Water
Rinse Brisket and set aside
Clean and halve potatoes and place in cooker
Peel and quarter onions and add to cooker
Rinse carrots and add to cooker
Place meat on top of vegetables
Empty spice packet on top of meat
Add beef broth to cooker
Add water to cooker so that meat is covered as much as possible
Cover and set timer for 8 hours on low or 4 hours on high
Remove meat after 8 hours (or 4 hours depending on the time frame chosen) – place cabbage into pot and mix in – salt pepper and onion powder to taste – place meat back on top of vegetables and cook for another hour
Remove meat and let rest for 10 minutes afterwhich slice with the grain
Place the vegetables in a bowl or on a plate with meat on top and ladle some broth on as well
Serve with horseradish sauce or mustard of your choice and your favorite bread or rolls if so desired
Enjoy!