Extremely filling! Mmmm 🙂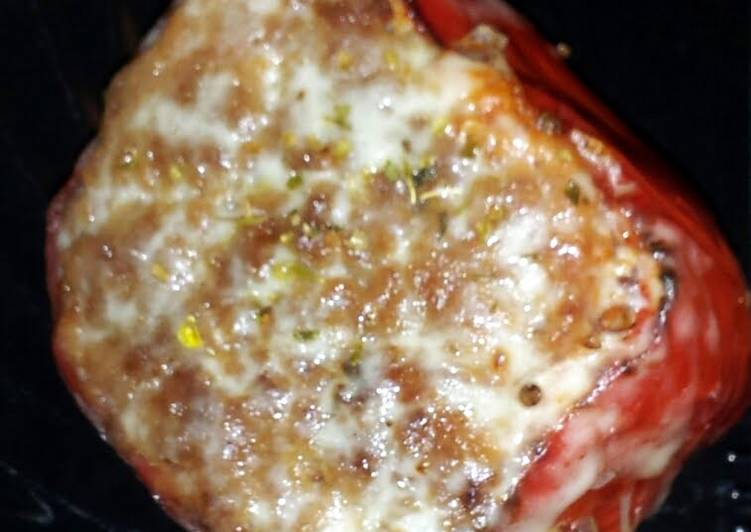 4 large Peppers (Red or Green)
1 lb Ground beef
3/4 lb Hot or Mild Italian sausage
1 1/2 cup Rice
2 cup Spaghetti Sauce
1 tbsp Black pepper
1 tsp Salt
1 tsp Onion (I use powder)
1 dash Cayenne Pepper
1 tsp Garlic (Minced or powder)
4 slice Mozzarella
1 dash Oregano
Wash hands Then wash and remove stems and seeds of each pepper by cutting out the tops leaving a cup-like design
Grab a baking pan or non stick dish
Parboil peppers for 5 minutes then set aside in baking dish
Cook rice according to package 5 minute rice works great
Preheat oven to 350°F
On the stove top brown ground beef and Italian sausage Optional whether you brown together or separately I do it separately
Combine cooked rice meat spaghetti sauce and seasonings Remember: Season according to YOUR taste Feel free to add more or less than the recipe calls for
Let flavors simmer for 5 minutes on low so that they can infuse! 🙂
Spoon heaping amounts of meat mixture into each pepper filling up to the top
OPTIONAL: Use breadcrumbs and a couple tablespoons of melted butter mixed together After filling the peppers with meat spread a little crumb mixture on each pepper before baking Then proceed to next step
Bake peppers for 40 minutes
Top with mozzarella and a dash of oregano and place back in oven till melted and browned A broiler could be used as well (I do)
Grab a plate knife fork and napkins and dig in! Mmm tasty goodness ENJOY!